** This post contains affiliate links, meaning we earn a small commission if items are purchased, it helps us to support the maintenance of the website.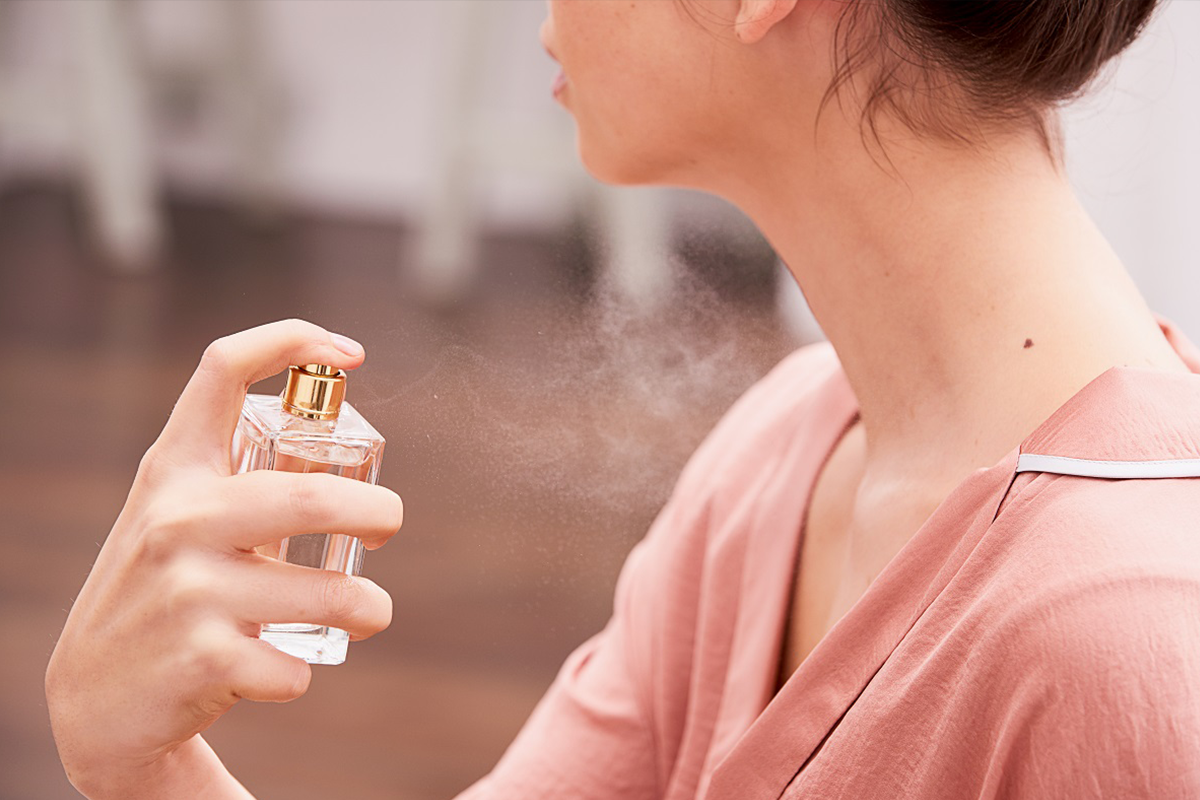 (my article on every marc jacobs daisy and daisy dream). This article explains and reviews what each of the seven versions of daisy love smell like and the different between them.
Marc Jacobs Daisy Love
Marc jacobs daisy love is one of my favourite marc jacob's fragrances.
In my view daisy love is a bit more grown up and sexy when compared to the original daisy, daisy daze and daisy eau so fresh.
Daisy love is a sweet fruity fragrance which uses cloudberry, an unusual fruit, as the primary fragrance note. This is accompanied by a hint of daisy (a note note included in the original daisy perfume!) and a driftwood and musk base.
For me, its the cloudberry which makes up 90% of the scent and even though it's an eau de toilette i find it lasts and projects as well as other marc jacobs eau de parfums.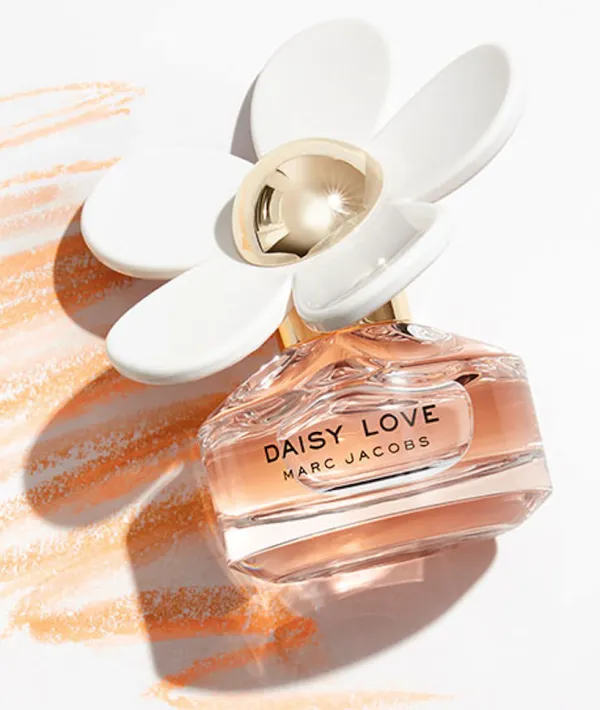 Marc Jacobs Daisy Love Eau So Sweet
As the name suggests, marc jacobs daisy love eau so sweet is a sweet sugary fragrance. It reminds me of a raspberry sweet or walking into a sweet shop. It also reminds me of a lighter version of ariana grande sweet like candy.
The top notes are raspberry and blackberry, but its the sugar fragrance note which dominates. As the fragrance fades there is a hint of musky florals.
Again, daisy love eau so sweet is an eau de toilette which lasts a couple of hours at most.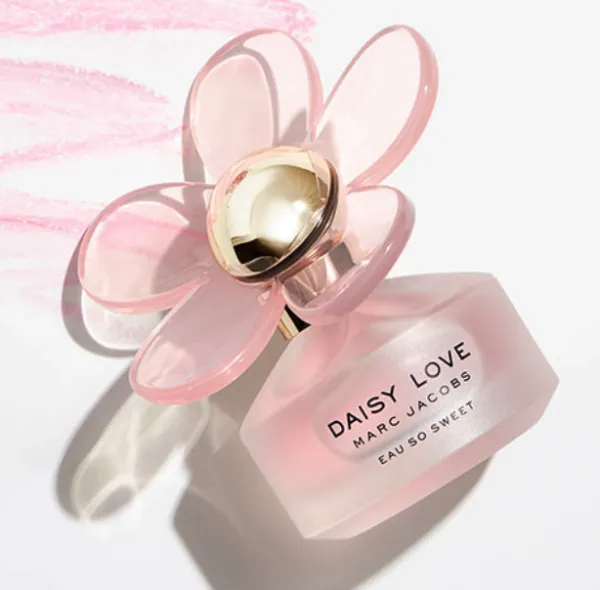 Marc Jacobs Daisy Love Sunshine
Daisy love sunshine, now discontinued, comes in a gorgeous yellow bottle and was released alongside other sunshine editions of the daisy perfumes.
The fragrance keeps the essence of the original daisy love by keeping the cloudberry as the main fruity note. Added to this is a bunch of citrus perfume notes including a sharp lime and bergamot which make daisy love sunshine a super fresh fragrance.
I recommend daisy love sunshine for hot humid days in the summer.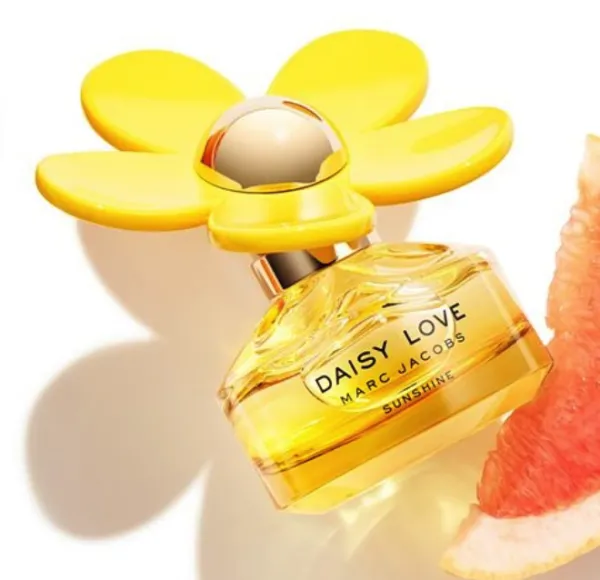 Marc Jacobs Daisy Love Daze
Daisy love daze is one of my favourites in the range. Instead of the signature cloudberry, marc jacobs uses an apricot top note which combined with osmanthus (the main note in one of main favourite fragrances gucci flora) creates a perfume that has some lasting power.
Marc jacobs daisy love daze is fruity and warm and could be worn at any time of year.
Unfortunately, the lasting power isn't as good as it could be because its an eau de toilette.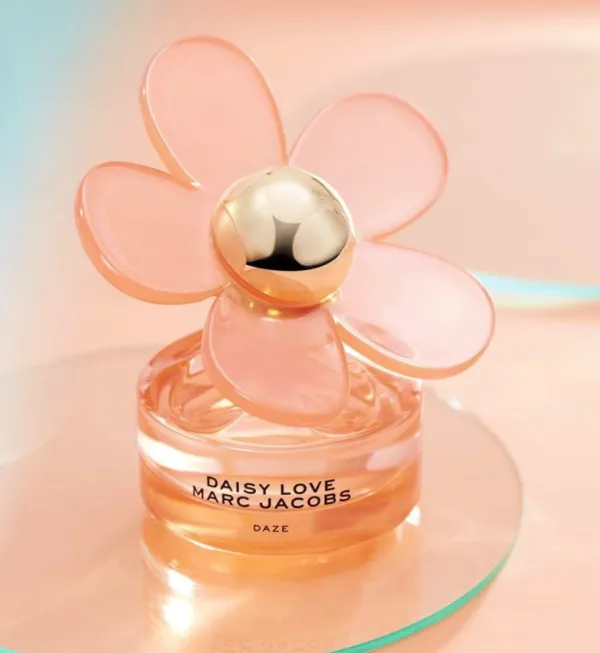 Marc Jacobs Daisy Love Spring
Marc jacobs daisy love spring is another warm and fruity scent which uses a fig perfume note as the main scent.
I love fig notes in perfume. Its a great way to get a fruity note which still feels classy. I also think fig works well during the autumn months when the weather starts changing but you aren't ready to switch to heavy winter scents.
The fig is accompanied by a hint of peony which is super refreshing and a modern floral note.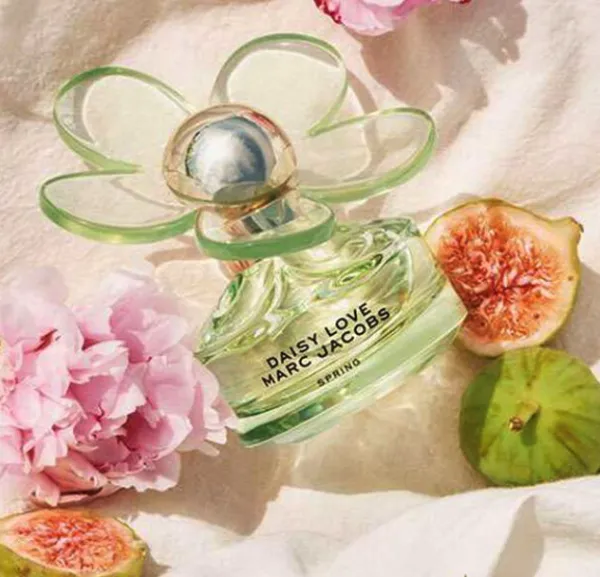 Marc Jacobs Daisy Love Skies
Marc jacobs daisy love skies is an unusual mossy scent which we haven't seen before in the daisy love perfume range.
Although the original cloudberry note still features, it is overshadowed by moss and musk mallow notes which are warm and create a sophisticated green feel to the scent.
These notes are them combined with a whipped cream and raspberry, reminiscent of daisy love eau so sweet.
Finally, daisy love skies fades down to be a green amber scent which if smelt blind, i'd challenge wouldn't be identified as a typical marc jacobs daisy scent.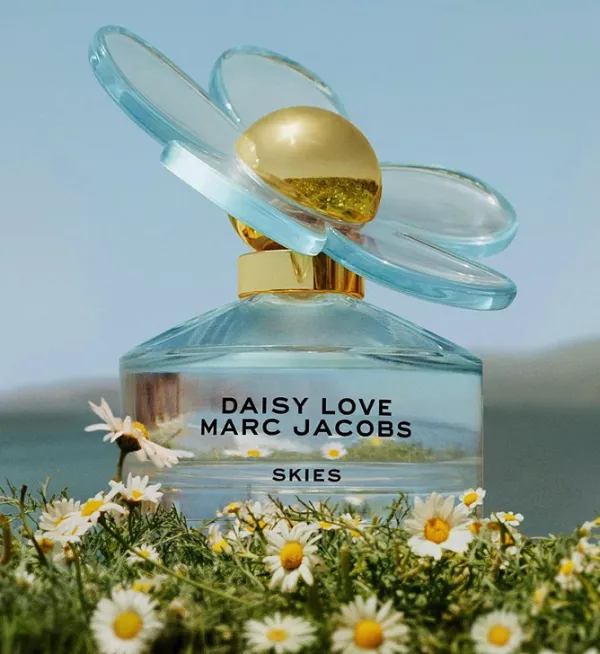 Marc Jacobs Daisy Love Petals
Daisy love petals is a 20ml unique bottle designed for travel or for the handbag (given the lid of the normal daisy love bottle is so large, this seems sensible).
The scent comes across slightly more musky that the original.
The petals bottle is also available for daisy love eau so sweet petals.