** This post contains affiliate links, meaning we earn a small commission if items are purchased, it helps us to support the maintenance of the website.
So what is cotopaxi all about? For starters, their motto is "gear for good," so that should give a clue. They're a certified b corporation, with 1% of their revenue going towards addressing poverty and community development. To date, they've awarded 42 grants in six focus countries. They also treat their workers with dignity and respect, offering fair, sustainable working conditions and allowing them to use their own creativity in the production process (more on that below).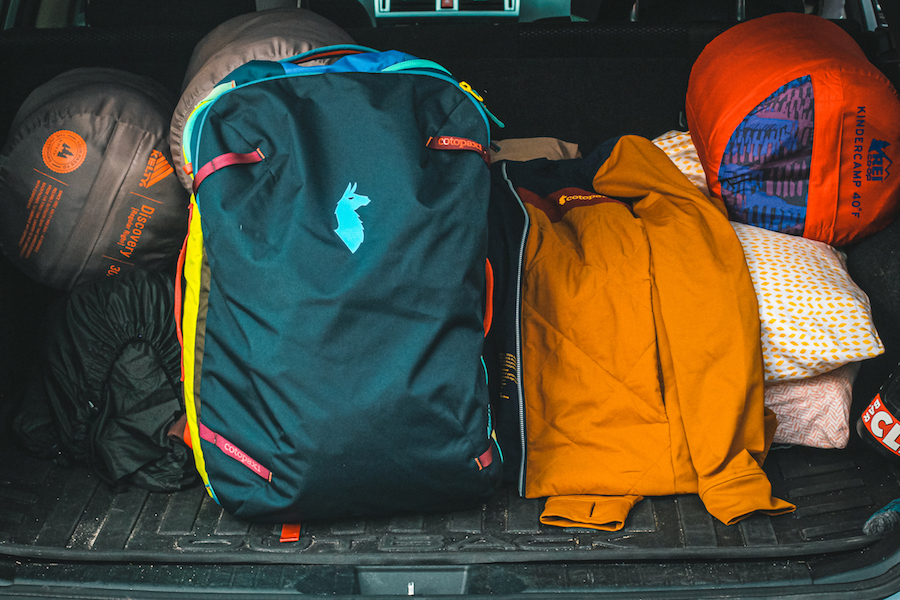 That mindset comes through in the actual design of their products– funky, bold colors that stand out amongst the crowd, employed in garments that utilize recycled materials and left-over fabrics. In short, they're a company that you just want to root for.
The gear itself? Outstanding, as you'll see. Every detail is well-thought-out, and it shows. They're built to last, and if there's a problem with a product, they'll work with you to repair it, exchange it, or get a replacement.
Anyway, that should give you a good background of what you're getting. Now let's get into the actual gear.
Cotopaxi Monte Hybrid Jacket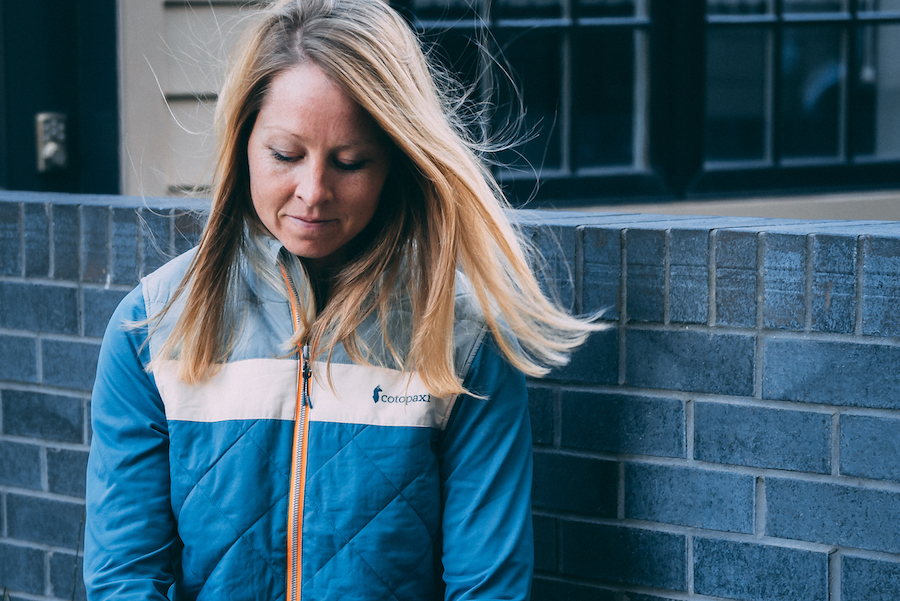 Quilted Polartec insulation | Made of recycled materials | Ridiculously comfortable
Meaghan: i've never owned anything cotopaxi before, but every time i see one of their windbreakers, i'm tempted to buy one. They've got that cool-retro-80's vibe that i wish i could pull off. Either way, i jumped at the chance to review their new hybrid jacket.
The submarine/sage color i received is one of my favorites. I also love the bright orange-lined zipper that gives this jacket a little pop, without being over the top. There are two zippered hand pockets and an internal pocket by the chest, great for a phone or some keys. The jacket is slightly fitted, but not tight. You could easily wear a couple layers underneath.
They're calling it a "hybrid" jacket because it works to keep you warm, but it's also really breathable. Basically, you can take it out for a walk to stay warm, but won't overheat out on the run, either. While it hasn't been cold enough in baltimore to need this jacket for running, i've been wearing it for a lot of dog walking. It's warm, comfortable, and you can't deny the stylish design.
Another perk, you can feel pretty good about wearing this jacket – the shell and lining are made from 100% recycled polyester. If you're in need of a jacket that works for all the activities, the monte hybrid is a great option.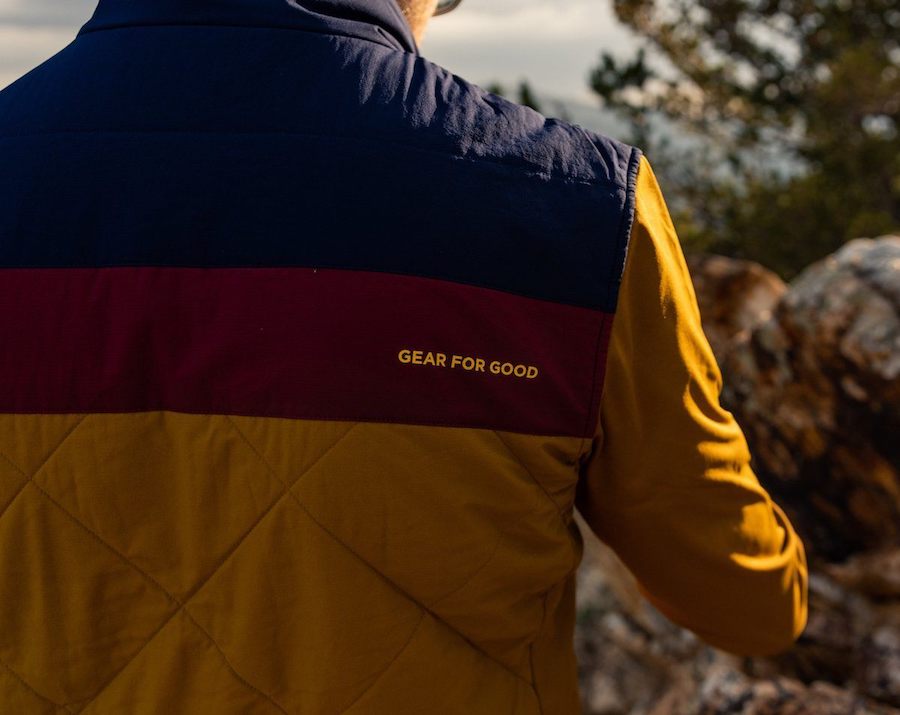 Robbe: you know when you get one of those pieces of clothing and you're like 'yeah, i'm probably going to wear this for the next five years.' that's the monte hybrid. It is that perfect jacket for the 45-60 degree range (or colder if you're staying active in it).
The polartec alpha insulation in the chest/body keeps you nice and warm, while the recycled polyester stretch fleece in the sleeves allows for a great range of motion (and they have thumb holes!). As meaghan said, most of this jacket is made from recycled materials, which should make your exploring heart happy.
It's all in the details on this baby though. The main zipper, often overlooked for some reason, reminds me of old-school jackets: super sturdy, with a nice pull. The interior zip pocket is perfect for stashing your wallet or anything else.
But what really matters is the fit, because it is so rare that i find a perfect fit in a jacket. I've found it here. It's snug without being too tight, which is perfect, because you don't want any cold air coming in the top or bottom, and it still offers options for layering. The sleeves and hem are just the right length. I'm not kidding you, this thing is just perfect.
Anyway, for all those post-run hangout sessions or easy day hikes, this is the go-to piece of gear to have around. Of course, it's insanely stylish and i've gotten a lot of compliments on it. Put this on the christmas list, you won't regret it.
Allpa 35L Del Dia Travel Pack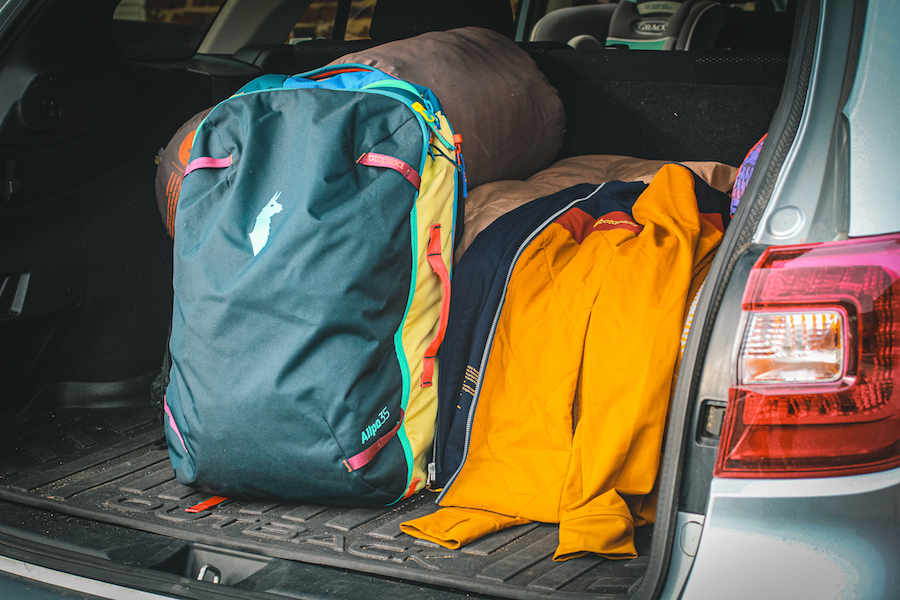 Carry-on compatible | Theft-proof zippers | Compartments galore
Robbe: look, i love backpacks and luggage. From duffels to rucksacks to slingbags, i'm like that little kid who constantly carries around a field journal, binoculars, and his rock collection, just in case. So you could say i was pretty excited to try this pack out.
I had been hoping it would come in time for a vacation to maine, but it came late, so it was relegated to some weekend trips. Doesn't matter. What matters is that i'm in love. Where do i start?
How about at the beginning. The allpa 35 del dia is a twist on the more rugged allpa 35 – instead of a ballistic nylon shell, the del dia is made 100% of repurposed nylon in the coolest way possible. Instead of scrapping their leftover fabrics, cotopaxi uses them to make these one-of-a-kind travel packs. Literally, no two of them are the same. Even better, the factory workers get to choose their own swatches, allowing for some creativity in what could be an otherwise mundane job.
Let's go deeper. Like i said, i love packs, but i equally love great packing solutions and tons of pockets. The allpa 35 fires on all cylinders, leaving no pocket unturned in its 35-liter capacity.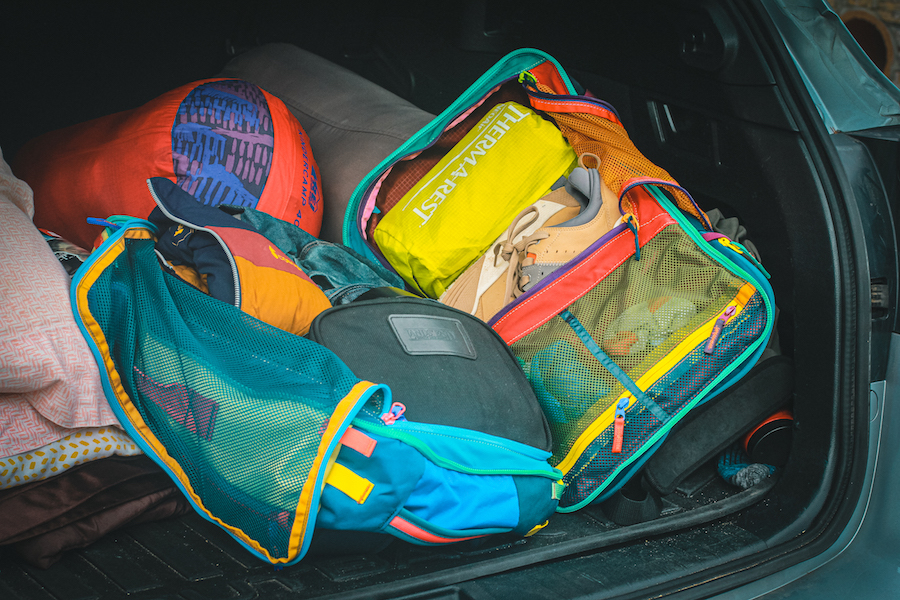 For starters, this bag is suitcase-style, meaning it unzips on three sides for a clamshell-style opening. You can open it flat, hang it up, do whatever you want with it, and the contents will still be secure. Both parts of the pack have zippered, almost packing cube-like compartments, to segment all your belongings. I can't tell you how much i loved this. As a runner, i was able to put my shoes in one section, small items like my hard drive and wallet in the top zippered pockets, and my clothes in the large section. It is wild how much stuff this bag can carry. Easily enough for a weekend trip, and honestly, probably enough for a week-long trip or more if you know how to pack properly.
Inside the back is a laptop carrier compartment, as well as a dedicated tablet sleeve with a velcro tab to ensure security. I actually didn't love that the laptop compartment was essentially as large as the bag and wish they had forewent the tablet sleeve for a general laptop sleeve. However, as long as you're not chucking your bag around, it'll be fine.
Another thing i loved about the bag was the super sturdy grab handles on all four sides. If you don't feel like using it as a backpack, you can tuck away the straps and carry it like a suitcase. Or, of course, you can use them as tie-down points.
Some other cool stuff: the zippers are theft-proof, meaning they have nylon straps across them where they close, so someone just can't quickly unzip your bag, grab the contents, and run. There is a quick-access zipper on the left side to get into the main storage compartment. Also, it comes with a rain cover since the pack is technically just water-resistant. That said, in a light rain, the pack will fare fine.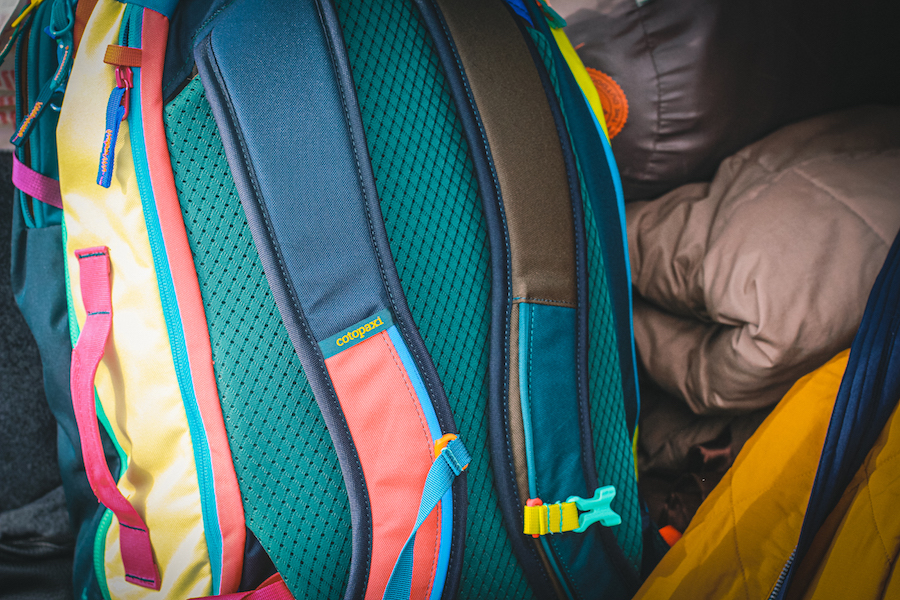 What would i love to see on this bag in the future? I would forego one of the grab handles for a water bottle pocket, though i had no issues just putting my nalgene lid through the side grab handle and transporting it that way (i also could've used the carabiner lash loops). I'd also maybe add one more external pocket for quick access to wallet/passport/etc. Very last minor thing– maybe some sort of compression straps; however, i also sometimes hate compression straps cause they're always hanging everywhere.
Look, this bag isn't exactly cheap, but for the quality and care that comes with it, the value is certainly there. And cotopaxi is an unbelievably ethical company, which is something refreshing to see these days. I'd happily support them in the future and i know this bag will be going with me on any trip from now until … probably forever.
Speaking of travel, this bag certainly fits under the limit as a carry-on item, but i'm pretty sure you could get away with it as a personal item on most airlines since it's a soft backpack-style pack (dimensions are 20 x 12 x 18 inches, so as long as it's not completely jammed full, you can compress the length of it).
Baja Pant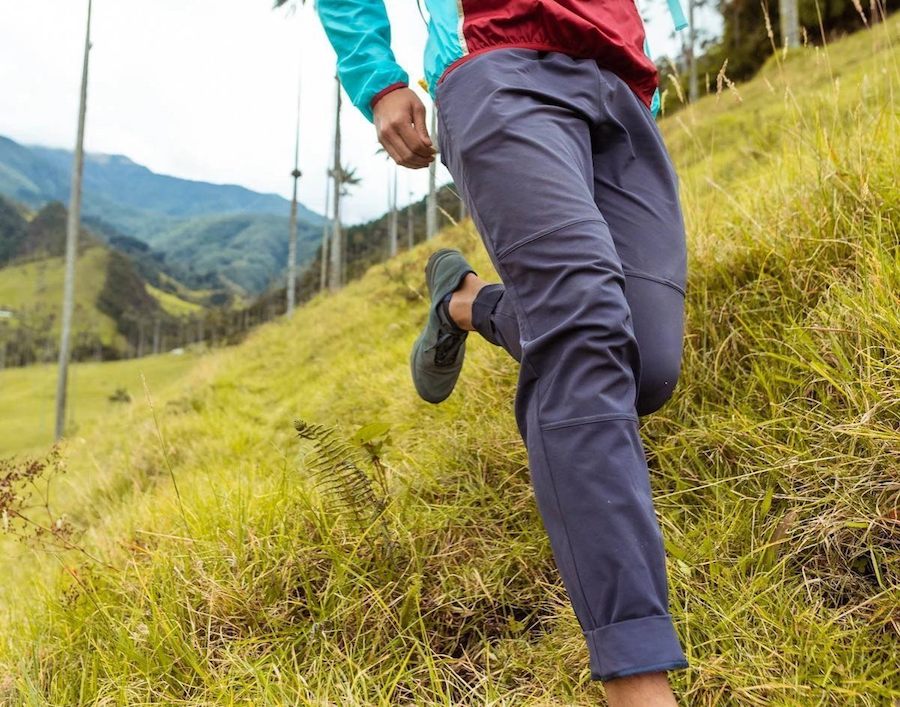 Robbe: the last piece we got from cotopaxi is the baja pant – a water-resistant, four-way stretch pant that's super comfortable. Now, i wouldn't say this is a running pant (despite the photo), but it could work in a pinch (they actually have a jogger, not sure why we didn't get that instead).
The pant has a looped, twill back and a flat spandex waistband, both of which land in the 'extreme lounging capability' column. That said, i didn't love this pant for a couple reasons. First, the sizing seemed fairly off for my size small. The pant was just too long and a bit too baggy for my tastes, so you may want to go a size down. Second, the drawstring wasn't cut? Maybe this was a factory mistake, but there weren't two ends to pull and tie together, and it didn't have a toggle, so i just had to tie a knot in it. Very odd.
However, i still wore them around and they are assuredly very comfortable. Would definitely work well for travel if the size fits you right.