** This post contains affiliate links, meaning we earn a small commission if items are purchased, it helps us to support the maintenance of the website.
The first hand mixer came about in the seventeen hundreds, and humans have only improved on the tool since then. Stand mixers are a great investment for the avid baker. The 8 best reviewed KitchenAid stand mixers for 2016 all perform well, look flashy, and aren't too rough on the bank account. Each has bonus attachments to make your stand mixer a wonderful multi-tool. With a lot of power packed into relatively compact units, 2016 showcases a new breed of mixers that get the job done and then some. All of these KitchenAid stand mixers bear the proud KitchenAid name, but one of them stands above the rest.
1. KitchenAid KSM150PSER Artisan Stand Mixer: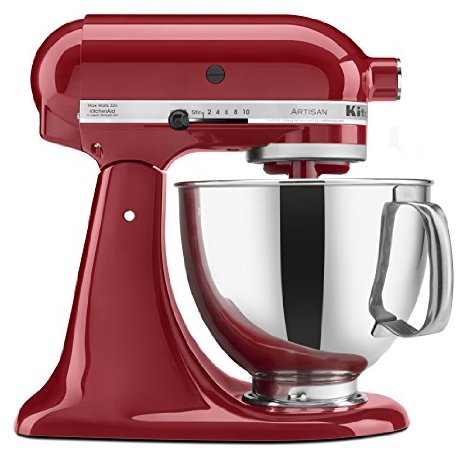 This stand mixer has the keen advantage of coming in a host of different colors! IT pairs well with any kitchen style and personality. Not only that, but it boasts a five quart stainless steel bowl with handles, a head that is tilted to allow better access to the bowl, and fifteen optional attachments, transforming it from mere stand mixer to a powerful kitchen multi-tool. This mixer's main negative, however, is that it only has three hundred twenty-five watts of power.
2. KitchenAid KP26M1XER 6 Quart Professional 600 Series: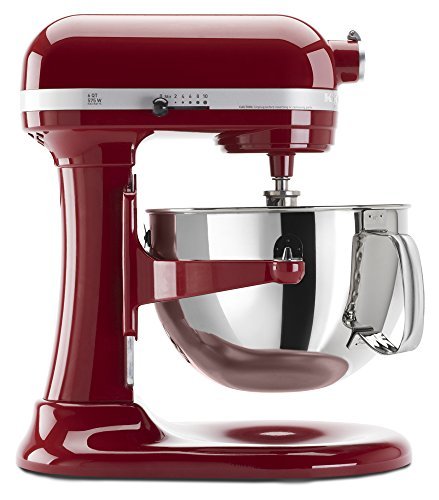 Larger than the majority of the best stand mixers on this list, the six quart Professional 600 Series model has a large stainless steel bowl with comfortable handles. The bowl is lifted off of the base, aiding in the mixing process, and the mixer comes with a Powerknead spiral dough hook, flat beater, wire whip, and a single piece pouring shield. There are fifteen other possible attachments as well. In ten different colors, it can also match any kitchen design.
3. KitchenAid KSM105GBCMC 5 Quart Tilt-Head Stand Mixer :
This stand mixer mixes things up a bit by sporting a glass bowl. The measurements on the bowl add some ease to baking, and the stand mixer looks elegant sitting on a kitchen counter. There is a non-glass base that attaches to the bowl to keep things secure while the mixer is turned on. At only three hundred watts, however, this unit isn't quite up for working with heavy bread dough or the like.
4. KitchenAid KSM6573CER 6 Quart Professional 6000 HD Bowl-Lift Stand Mixer: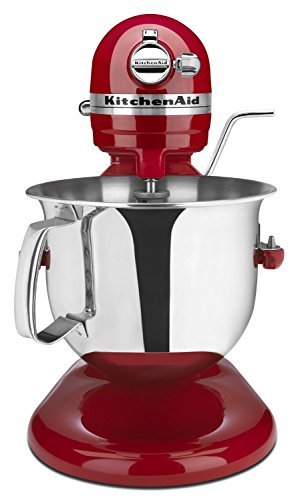 The Professional 6000 HD stand mixer steps things up a notch without really taking much of a jump in price. It has a quiet, powerful one horsepower DC motor, an extra deep six quart bowl, and its included metal beater, six-wire whip, and dough hook are all dishwasher safe. The main let-down of this unit, however, is that it isn't compatible with any beaters or bowls that were not specifically designed for it.
5. KitchenAid AKM8990OB 8 Quart Commercial Bowl-Lift Stand Mixer: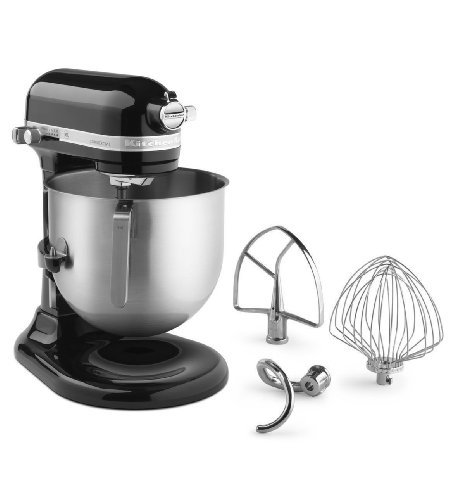 Here's the real deal: at approximately twice the price of its closest competitors, the 8 Quart Commercial Bowl-Lift Stand Mixer pulls twice as many punches. For starters, it has a greater capacity. It has a 1.3 horsepower, 500 watt DC motor. Despite the power, it isn't much larger than the other best stand mixers for 2016. All of the attachments are durable, the unit is relatively quiet, and it is streamlined to look nice sitting on a countertop.
6. KitchenAid KSM155GBPB 5 Quart Artisan Design Series: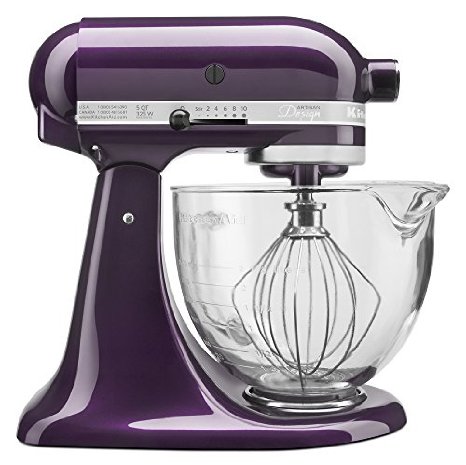 For the aesthetic eye, the Artisan Design Series stand mixer comes in thirteen gorgeous, unique hues. The motor strains a bit when challenged with dense dough, but it makes a good effort. This unit also has the attractive glass measured bowl, and it is a tilt-head mixer rather than a lift-bowl mixer. There is an advantage there: it's harder for things to get out of alignment with a tilt-head unit.
7. KitchenAid KSM150PSWH Artisan Series 5 Quart Stand Mixer: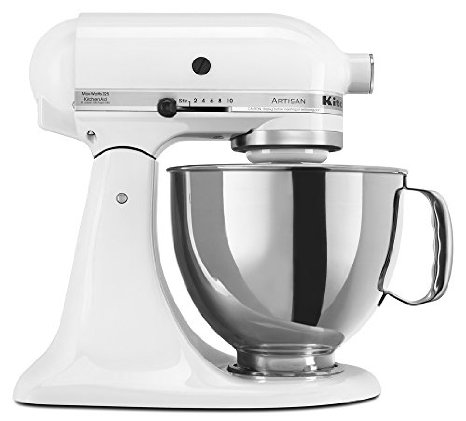 This stand mixer also features the fifteen optional attachments, and it comes with a flat beater, dough hook, six-wire whip, and single piece pouring shield. What sets it apart is its fifty-nine point planetary mixing action. This means it has fifty-nine points that the beater touches the side of the bowl in one rotations. Effective, thorough mixing is guaranteed because of this. It is a tilt-head unit, it runs quietly, and it has a powerful motor.
8. KitchenAid KV25GOXER Professional 5 Plus 5 Quart Stand Mixer: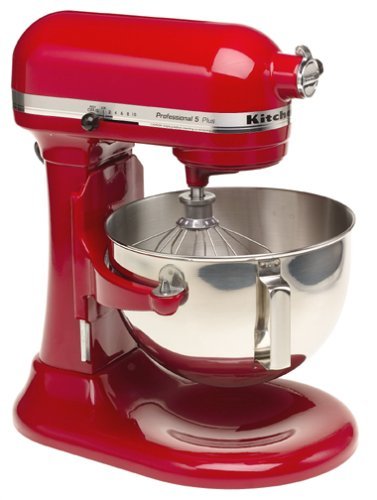 The mixing action on this stand mixer puts a new twist on an old theme: the beater turns clockwise while the shaft spins counterclockwise, maximizing mixing and limiting how much dough gets stuck on the beater. It has a four hundred fifty watt motor, which is well above the majority of the competition, and it comes with a flat beater, spiral dough hook, and wire whip. The handle is specially designed to making lifting easy and comfortable.
At the end of the day, all of these mixers genuinely are the 8 best reviewed KitchenAid stand mixers for 2016. Number sever, however, the KitchenAid KSM150PSWH Artisan Series 5 Quart Stand Mixer, makes the cake when to comes to affordability, efficiency, and power. It tops more expensive mixers in terms of performance, and it looks good while it does it.