** This post contains affiliate links, meaning we earn a small commission if items are purchased, it helps us to support the maintenance of the website.
About ONLY
ONLY is an international fashion brand for young women. Today, they are one of the leading denim brands in Europe. ONLY has turned its success into know-how and in-depth experience in both retail and wholesale and is sold in more than 4500 stores worldwide.
The ONLY girl always looks amazing in an effortless way! Fashion is her passion – a creative space where she can experiment with different attitudes feels and looks. She's not defined by a certain style, but by her playful attitude, her take on life and fashion, and her love for denim.
ONLY Blue Denim
Denim is the core of the ONLY brand. Indigo blue not only changed the world of fashion, but it was also the beginning of ONLY and what has been a central part of the fashion denim brand throughout the past two decades. ONLY was born as a jeans brand and has since the beginning been an expert in designing and producing jeans.
But not only do they create jeans of such quality that they can last a lifetime, but they also create them to complement their customer´s own sense of style. From torn rock ´n´ roll to romantic light blue and a high waist skinny fit, they strive to make ONLY jeans a must-have in every girl´s wardrobe.
ONLEMILY HW STRAIGHT FIT JEANS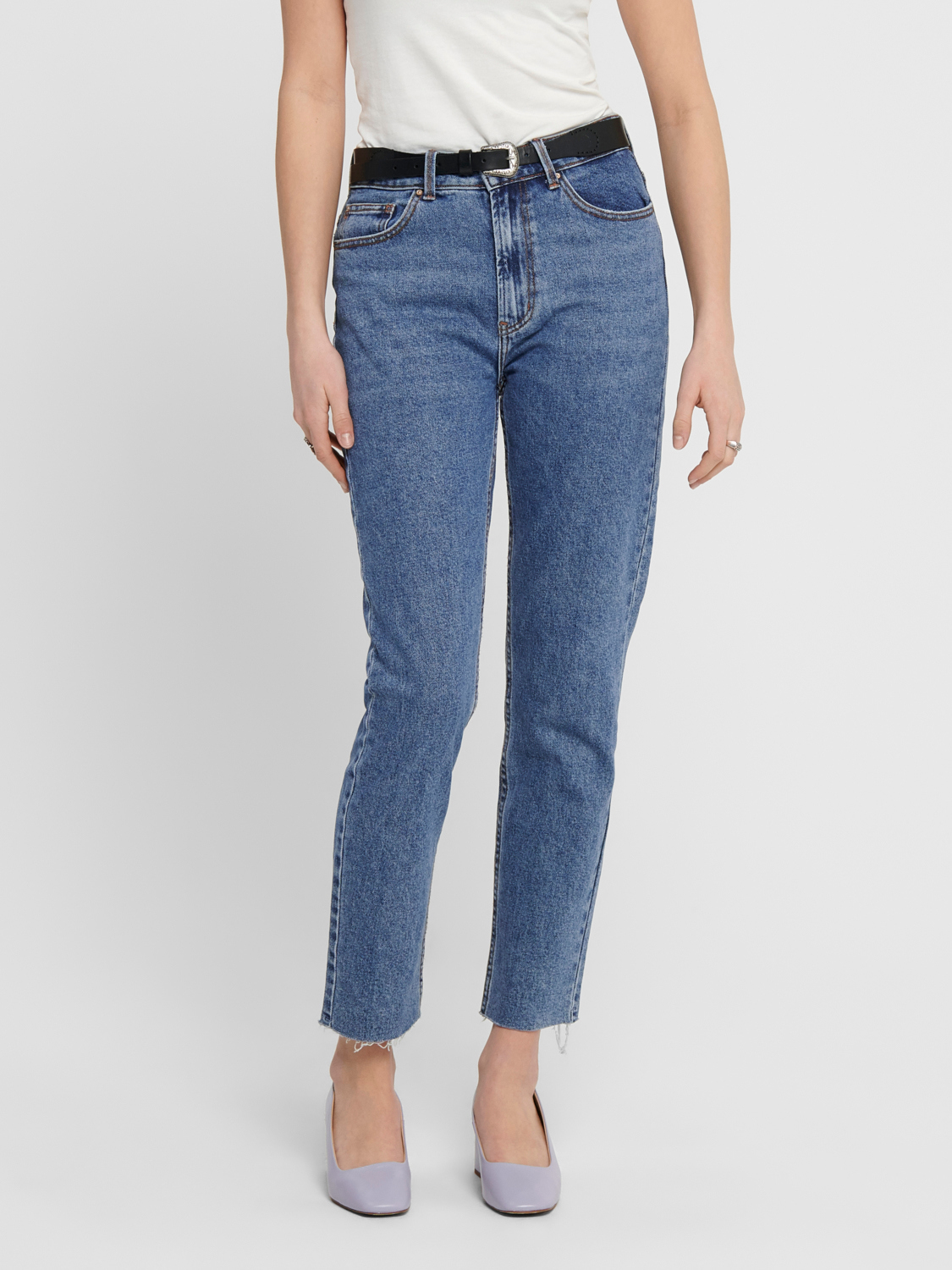 Product Description
Fit / Type: Straight fit jeans
Waist: Hight waist
Fabric: Made from stretch cotton denim with a bit of elasticity added for extra comfort
Wash: Mid blue indigo wash
Fly: Zip fly
Leg: Ankle length
Pocket other: Classic five-pocket style
Model: The model is wearing a size 28/34
Product number: 15171549
ONLJUICY LW WIDE LEG LOOSE FIT JEANS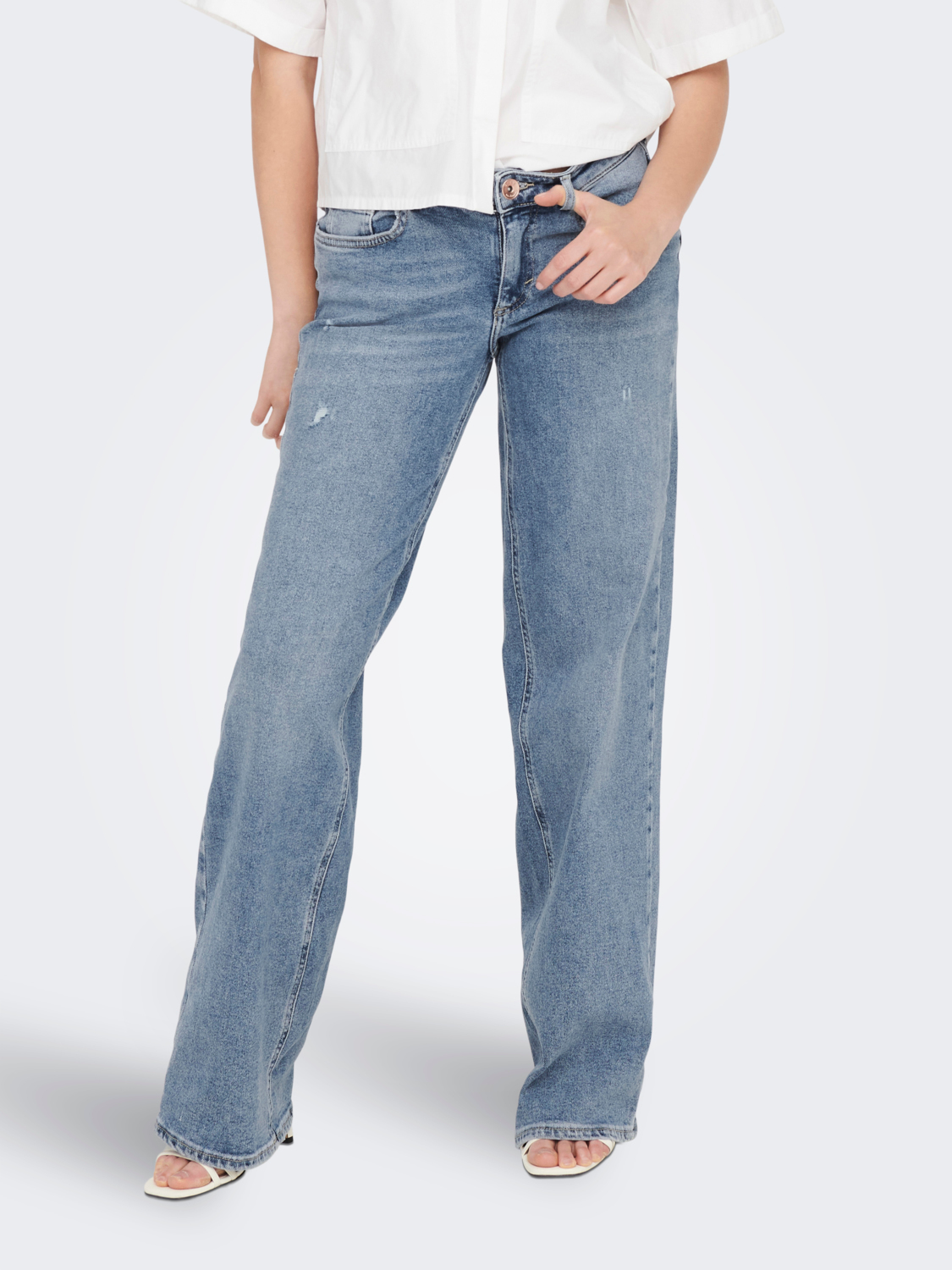 Style information
ONLEMILY HIGHWAISTED STRAIGHT FIT JEANS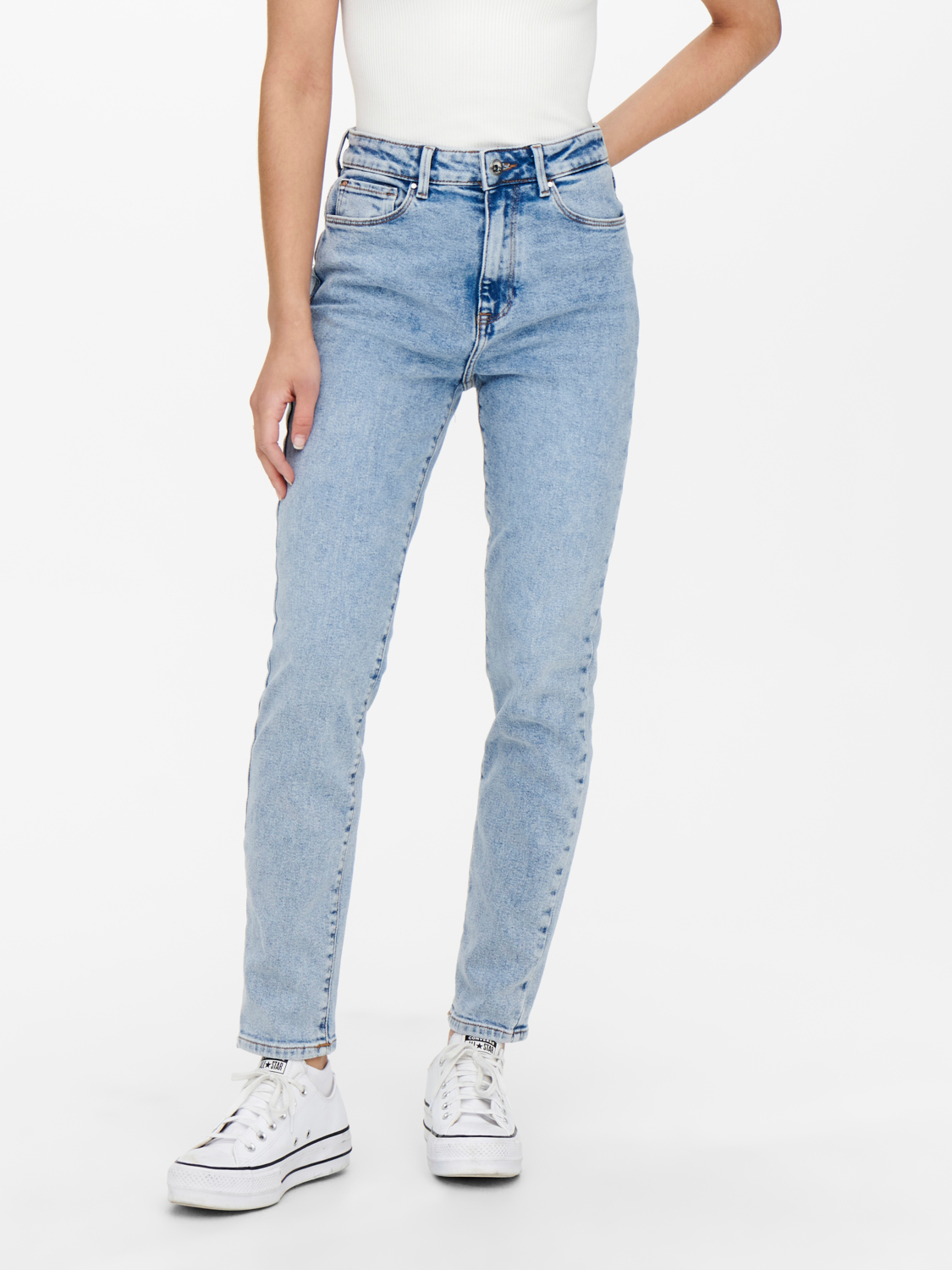 Product Description
Detail Type: Straight fit jeans
Fabric: Made from stretch cotton denim with a bit of elasticity added for extra comfort
Closing/Fly: Zip fly fastening
Pocket other: Classic five-pocket style
Wash Finish: Light blue denim
Waist/Rise: High waist
FIT: Straight Fit
Product number: 15248715
BIKER FAUX LEATHER JACKET
Product Description
Biker jacket in leather look
Asymmetric zipper at front
2 front pockets with zippers
Paspol chest pockets with zipper
Quilted biker details below at each sleeve
Press button details at collar
Quilted details at shoulders
Zipper below at each sleeve
Length: 57 cm in size 38
The model is wearing size 36
Product number: 15153079
DENIM JUMPSUIT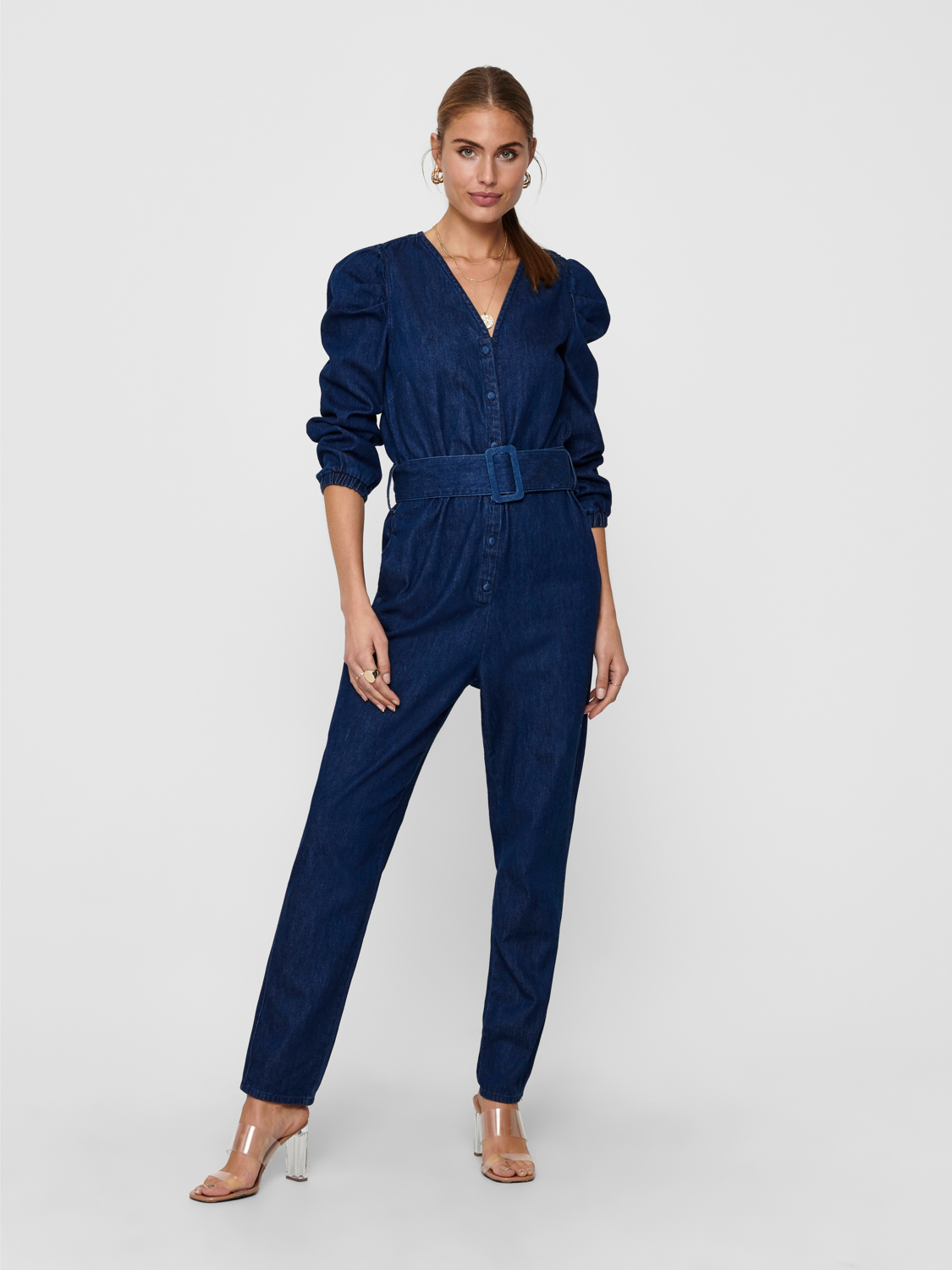 Product Description
LDS LS V NECK BELTED JUMPSUIT
Product number: 15215150
DETAILED DENIM JUMPSUIT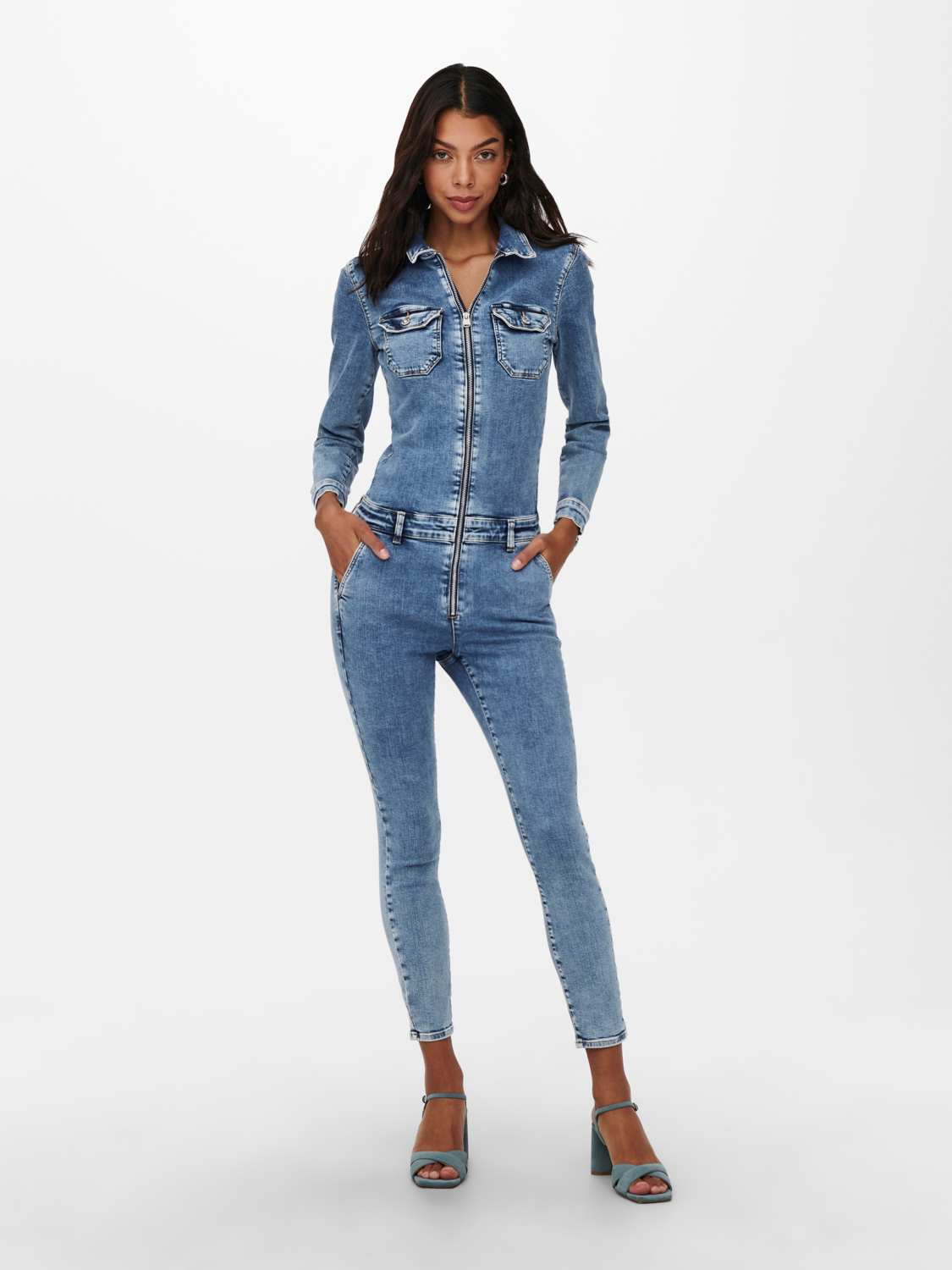 Product Description
Detail Type: Jumpsuit
Fabric: Made from soft
high-performance stretch fabric to ensure a perfect fit and all-day comfort
Closing/Fly: Zip fly
Occasion/styling: Casual and easy all day wear
Pocket other: Back pockets
Product number: 15253533
RIBBED DENIM JUMPSUIT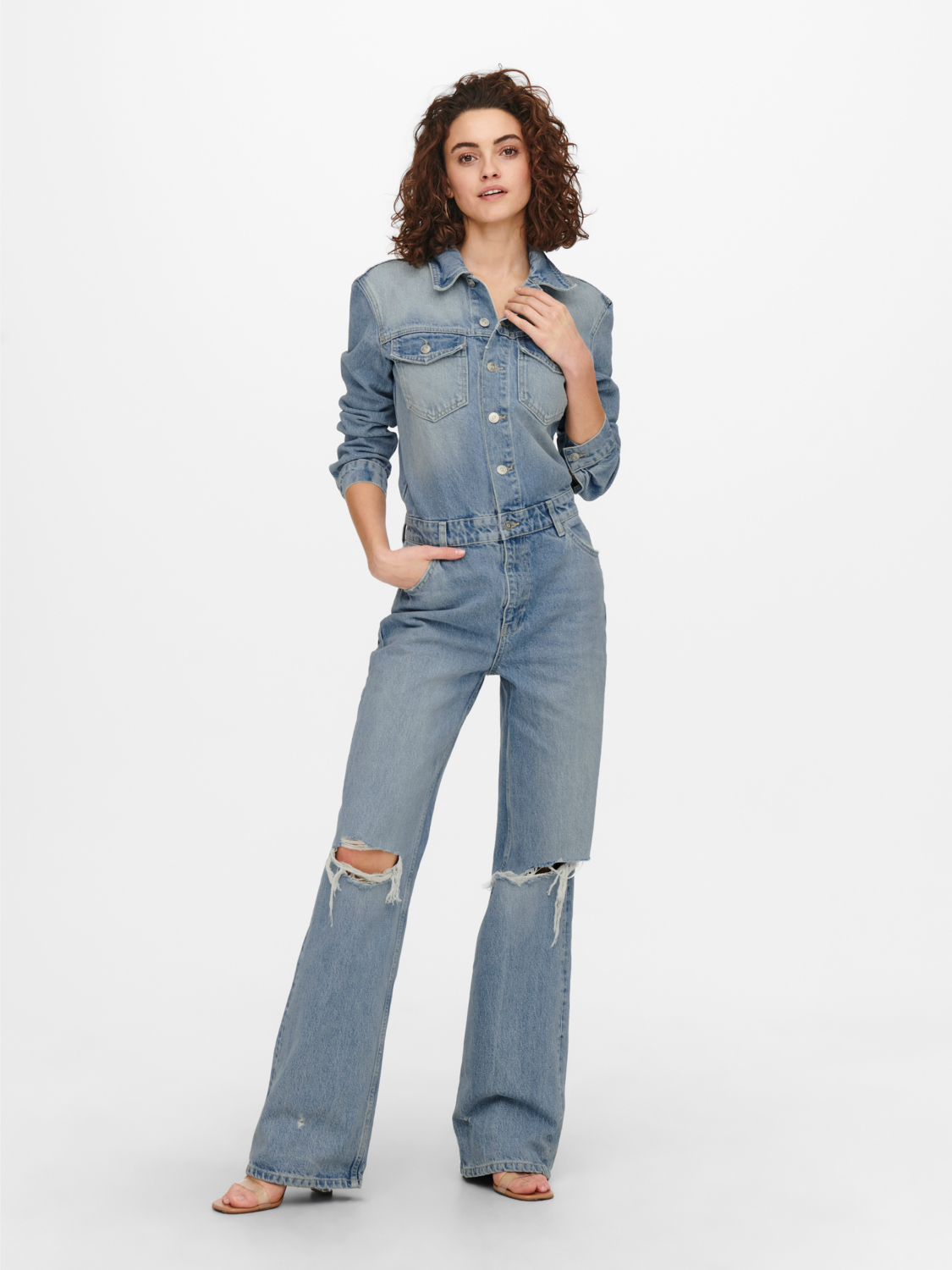 Product Description
LDS LS DNM JUMPSUIT
Product number: 15249301
ONLDAISY SHORT SLEEVED DENIM JUMPSUIT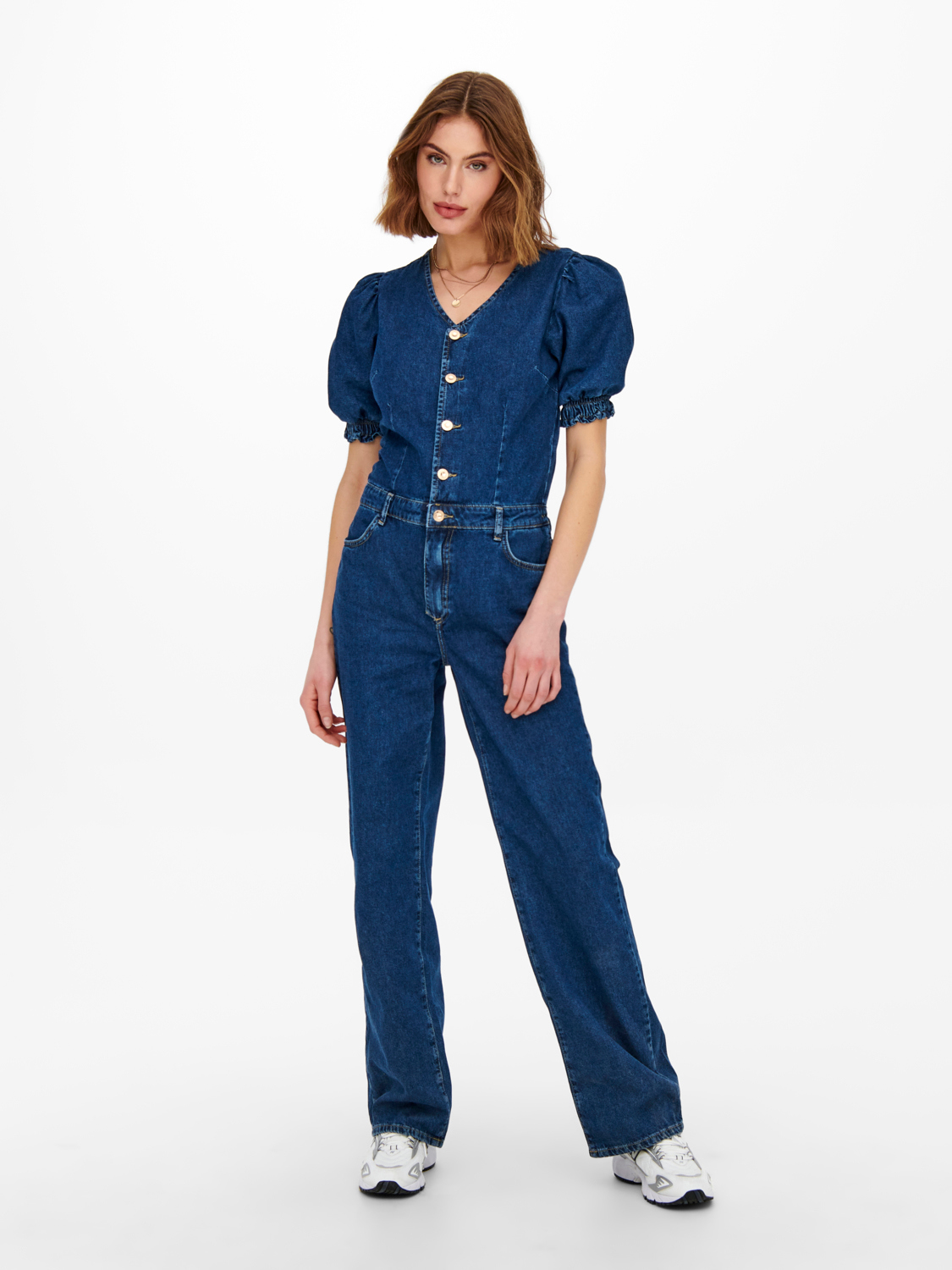 Style information
LONG SLEEVE DENIM SHIRT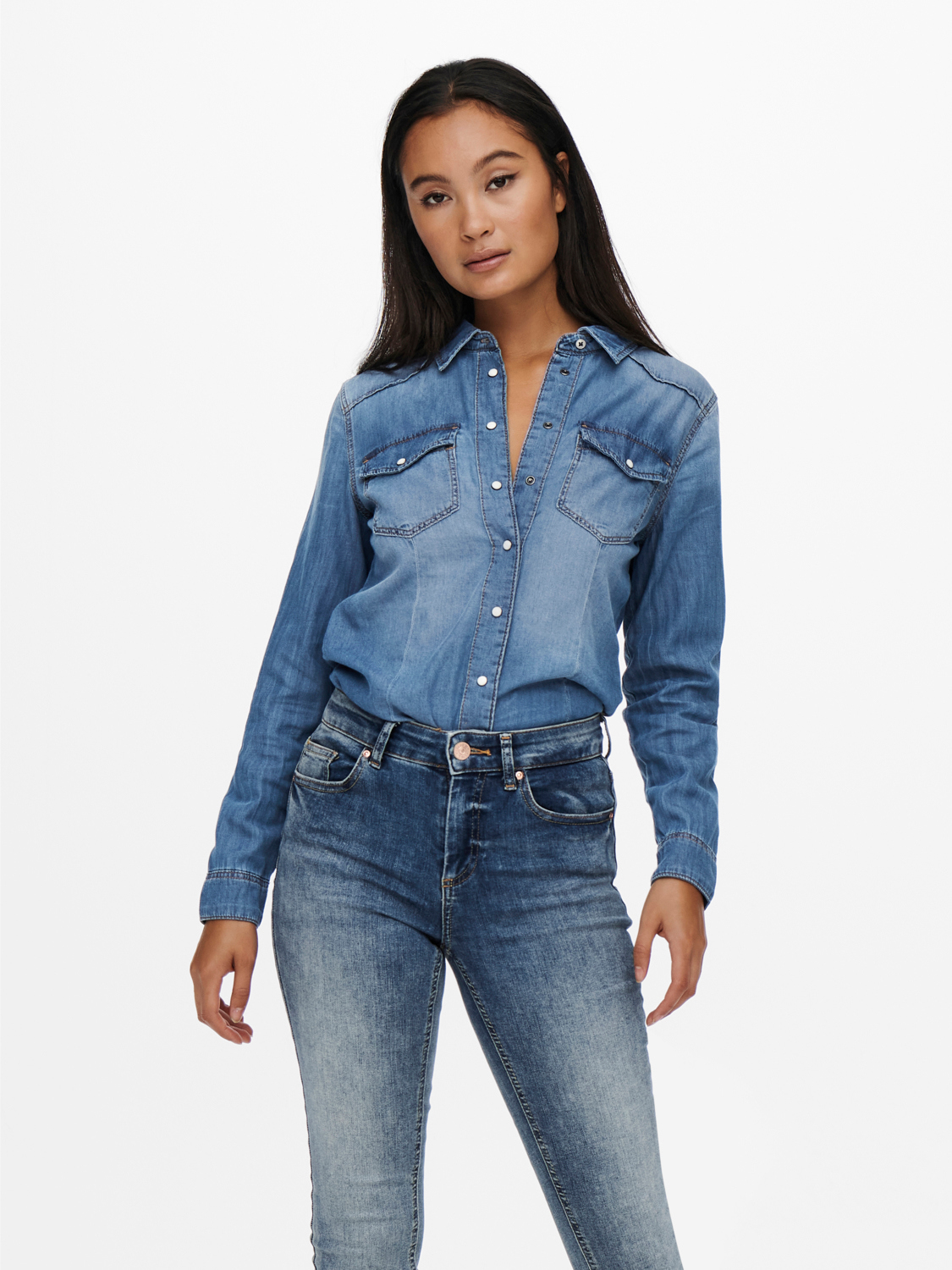 Product Description
Detail Type: Denim Shirt
Closing/Fly: Button fastening
Pocket other: Chest pockets
Occasion/styling: Casual and easy all day wear
FIT: Regular Fit
NECK: Shirt Collar
SLEEVE: Long Sleeves (L/S)
Product number: 15236387
OVERSIZED DENIM SHIRT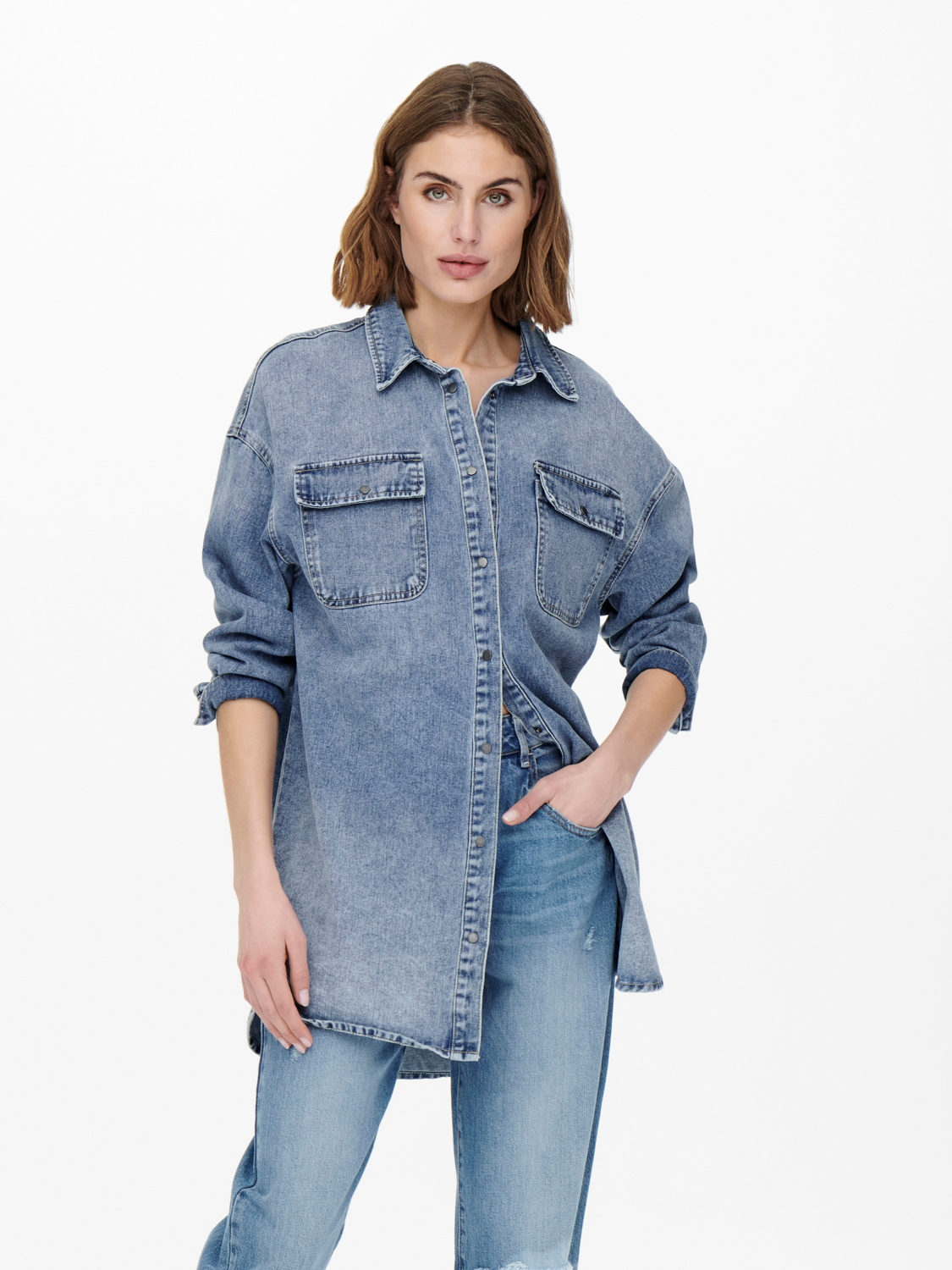 Product Description
Detail Type: Denim Shirt
Closing/Fly: Button fastening
Pocket other: Chest pockets with press stud fastening
Occasion/styling: Casual and easy all day wear
Wash Finish: Light blue denim
FIT: Loose Fit
NECK: Shirt Collar
SLEEVE: Long Sleeves (L/S)
Product number: 15246783
OVERSIZE DENIM SHIRT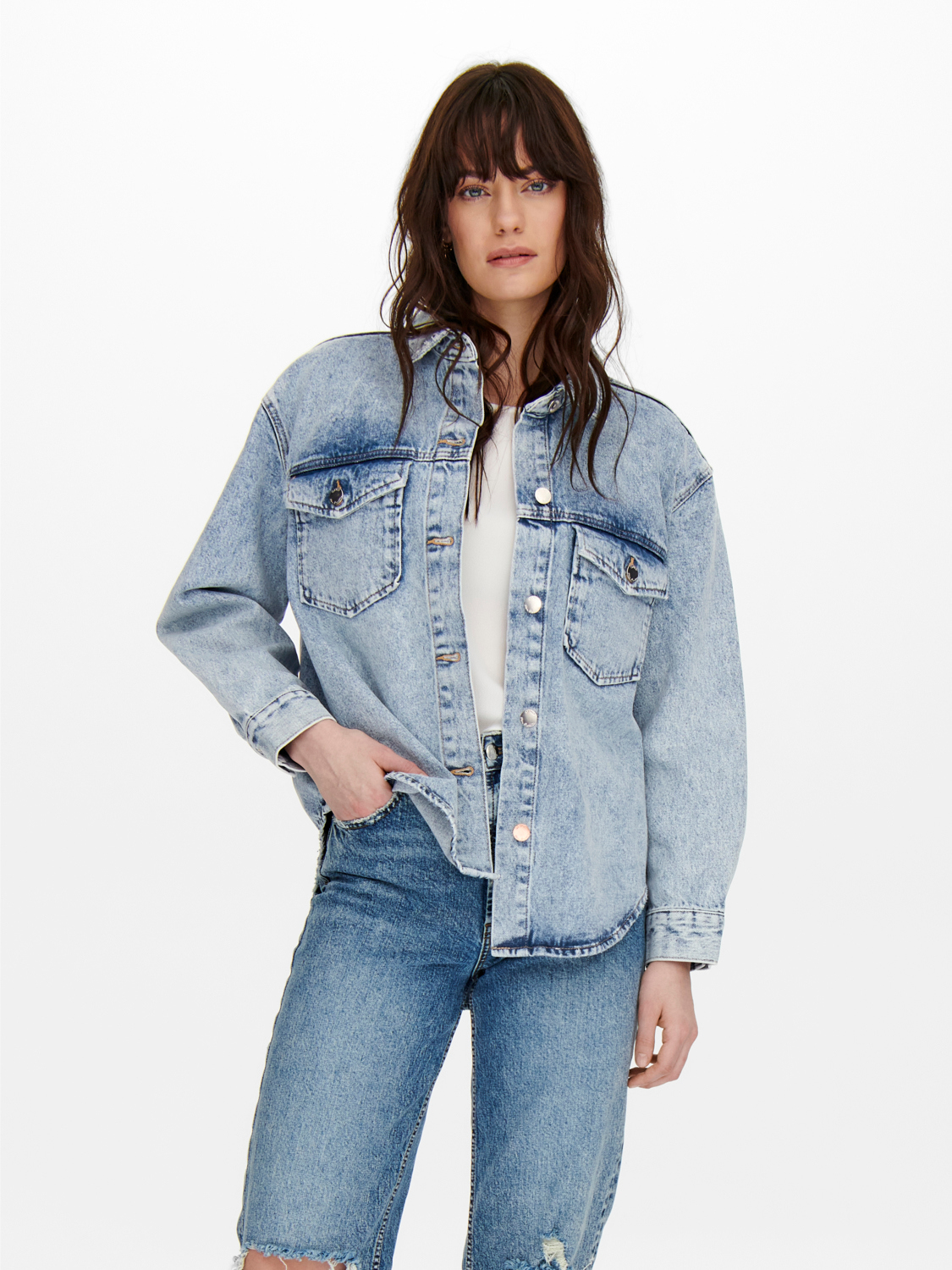 Product Description
Casual and easy all day wear.
Style type: Denim Shirt
Sleeve Length: Long Sleeves
Sleeve type: Dropped shoulders
Neckline / Collar: Shirt Collar
Closing / Fly: Button fastening
Pockets: Chest pockets with snap button fastening
Product number: 15249408
LOOSE LONG SLEEVED SHIRT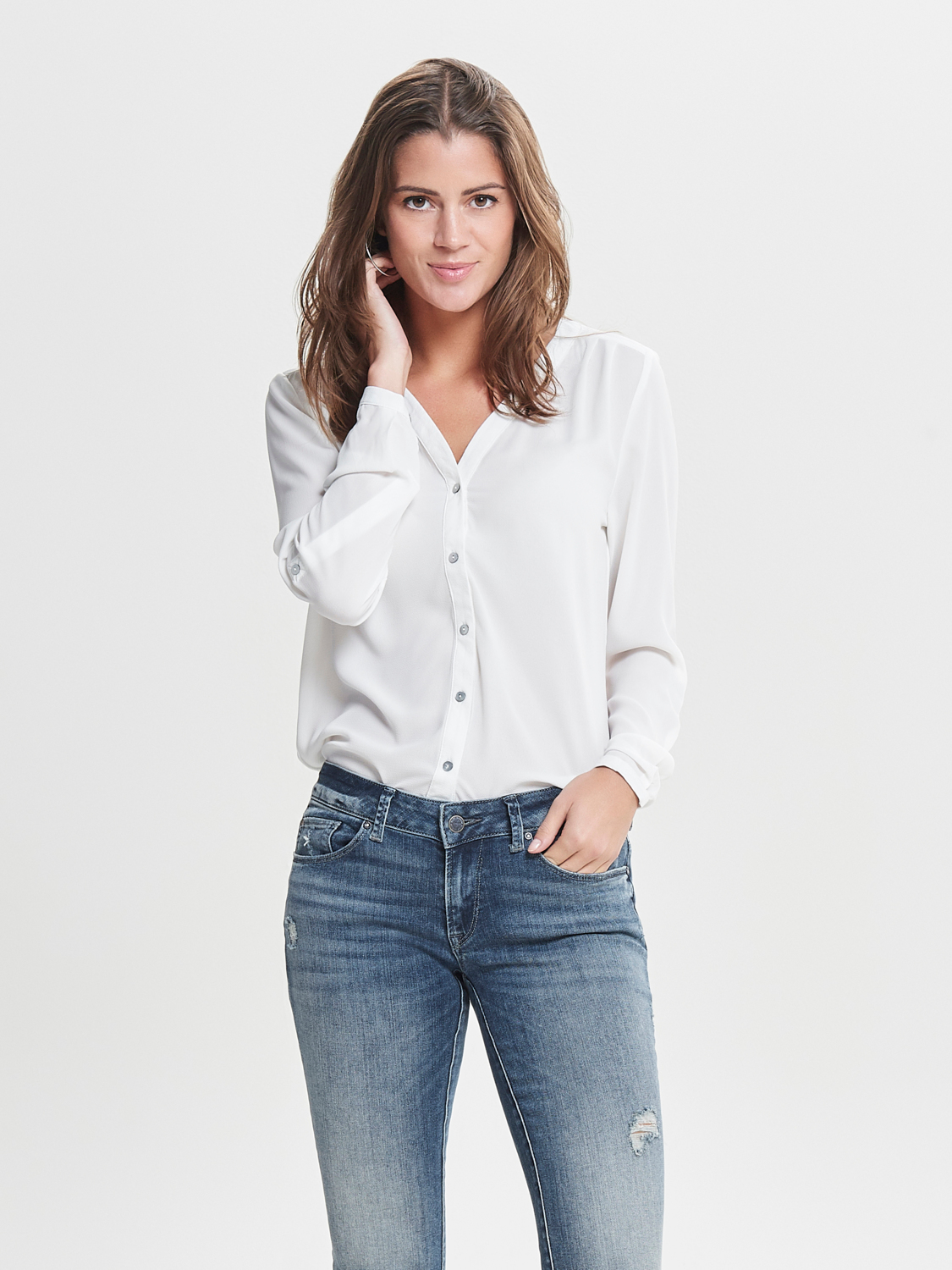 Product Description
Solid colored shirt with v-neck
Button closure at front
1 button below at each sleeve
Loose fit
Stretchy material
The model is wearing size 36
Product number: 15165571