** This post contains affiliate links, meaning we earn a small commission if items are purchased, it helps us to support the maintenance of the website.
Cotopaxi is a brand on the rise. With their distinctive and vibrant colorways, sustainable business practices, and skillful collaborations with other brands, they've quickly established themselves as a serious player in the outdoor market. The fuego down jacket is arguably their best-known product, and we gave it a test while summer backpacking and into the chilly fall season. The verdict: while the jacket checks the right boxes in terms of warmth, fit, sustainability, and styling, the relatively cheap-feeling lining and non-adjustable hood keep it from being a class leader. Below we outline our experiences with the fuego. To see how it stacks up to the competition, see our article on the best down jackets.
Performance
Warmth
Patagonia's down sweater has been a dominating force in the lightweight down jacket market for years, and it's pretty clear that cotopaxi had that model in their sights with the fuego hooded down jacket. Featuring a classic down sweater baffled look, premium 800-fill-power down certified to the responsible down standard (rds), and a lightweight and wind-resistant shell, the jacket excels as a 3-season (non-winter) option. It was a great match for wearing around camp in the mornings and evenings while backpacking in colorado's san juan mountains—the hood worn over a beanie was a big help here—and it's been equally suitable for fall days with temperatures in the mid to low 40s fahrenheit. This level of warmth is a sweet spot for many, and i've found myself grabbing the fuego nearly every day in the shoulder season.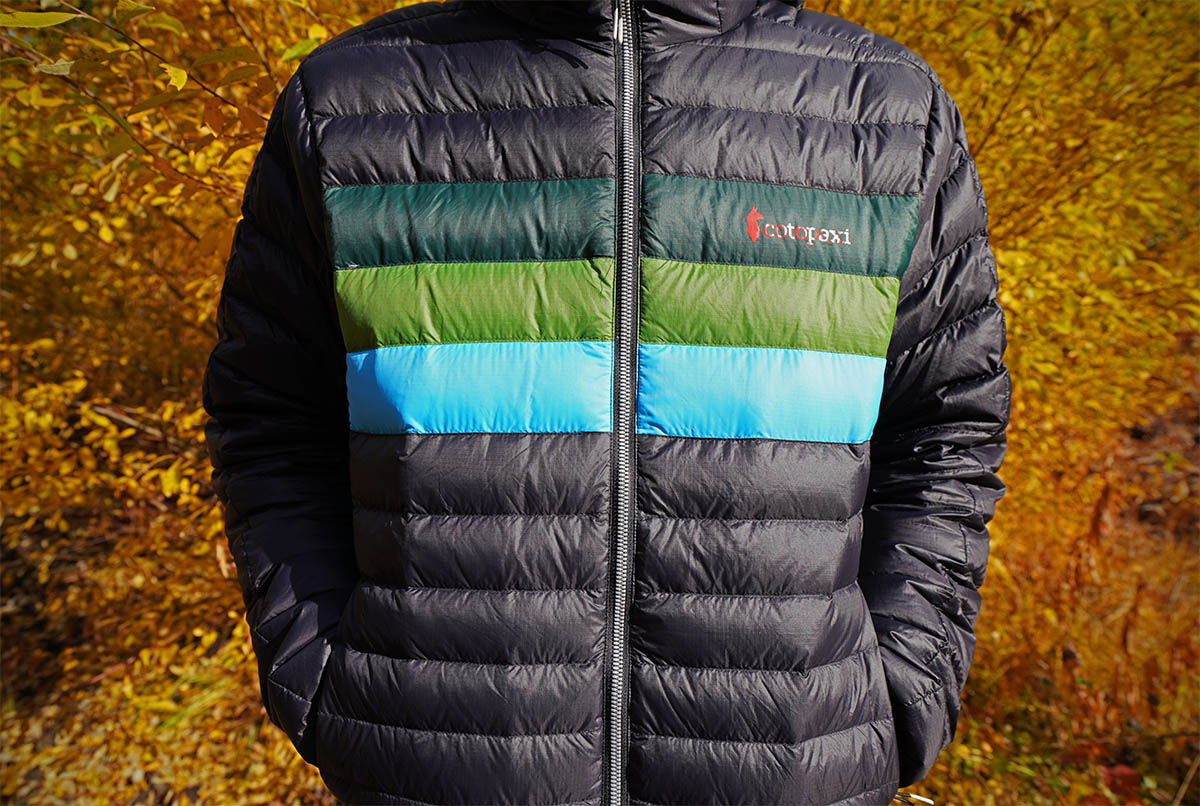 It's worth noting that cotopaxi does not provide a fill weight for the jacket, which was a bit surprising for a company with outdoor apparel and some technical aspirations. That said, the warmth felt very similar to our patagonia down sweater, which boasts 3.7 ounces of the same 800-fill down. For serious backcountry enthusiasts, you can get comparable insulation for less weight (and with a more packable construction) with an option like arc'teryx's cerium lt or feathered friends eos. And for true winter temps, we'd turn to a heavier-duty option like the rab neutrino pro (7.5 oz. Of 800-fill down). But for most light outdoor activities like hiking, backpacking, and hanging around the crag—plus wearing around town on the days in between—the fuego has a lot of appeal.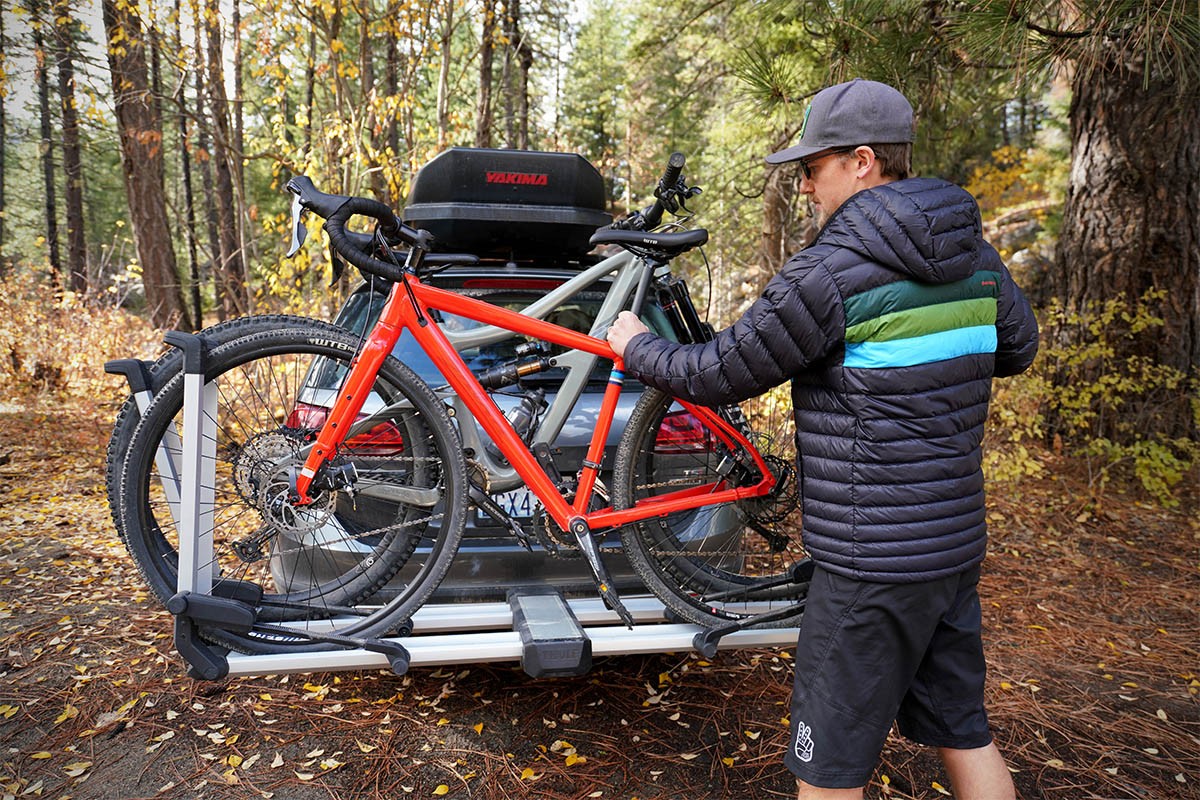 Weight and Packability
We rarely have products undercut their listed weight, but my men's medium fuego hooded checked in at 13.2 ounces on my scale (under the 14 oz. Spec cotopaxi provides). This puts it in a competitive spot in the lightweight down jacket category. For reference, patagonia's down sweater hoody (15.1 oz.) and rei's down hoodie 2.0 (13 oz.) are similar, while some slightly warmer options like the rab microlight alpine (1 lb. 0.5 oz.) and cubit stretch down hoody (1 lb. 3.9 oz.) clock in heavier. You can go lighter with more technical pieces like the mountain hardwear ghost whisperer/2 (8.8 oz.), arc'teryx cerium lt (10.8 oz.), and feathered friends eos (10.6 oz.), but those jackets are more specialized designs with thinner fabrics and less everyday appeal. All told, the fuego feels undeniably light when wearing it, and few will find complaints from that perspective.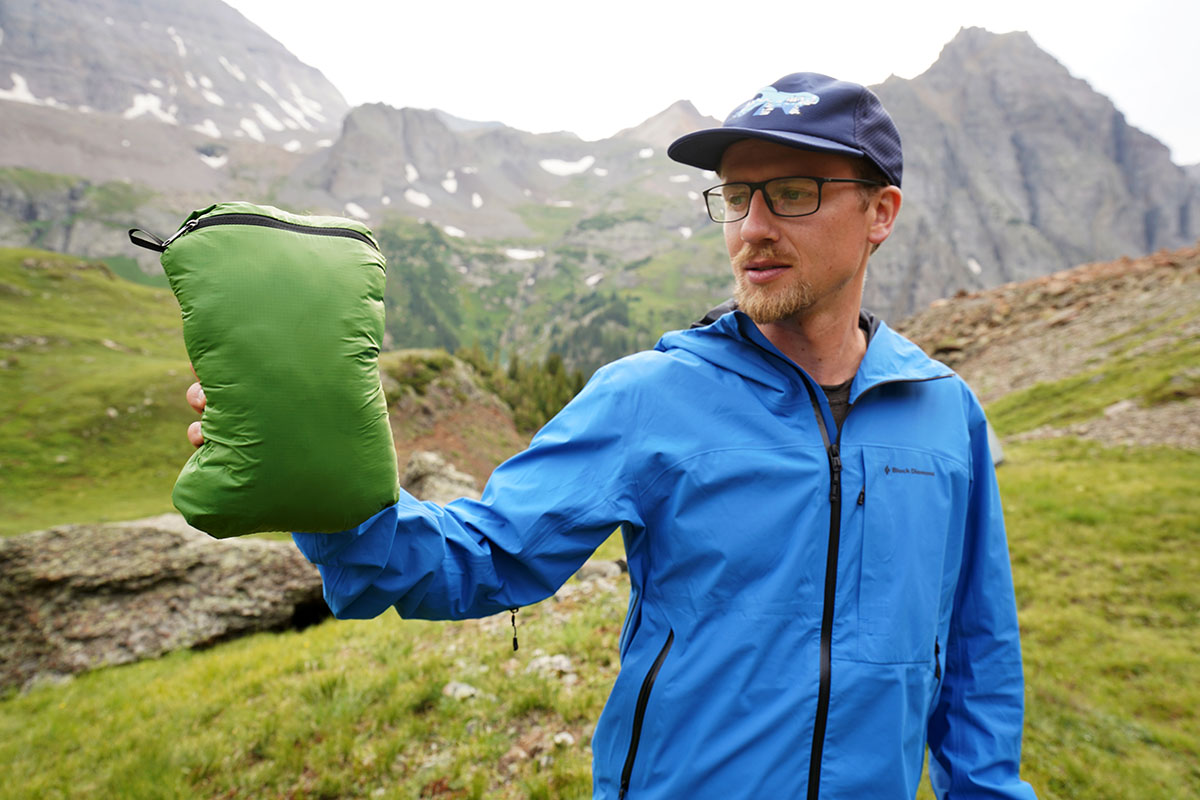 Comfort
In general, we think cotopaxi nailed the warmth, fit, weight, and styling parts of the equation, but comfort was a surprising letdown. Traditional nylon-shelled down jackets aren't exactly known for their high levels of comfort—the fabrics can feel a little slippery and lacking in coziness—but both the fuego's outer shell and inner lining still come up noticeably short. For reference, we tested the cotopaxi alongside fjallraven's expedition pack, and the differences were stark: whereas the fjallraven felt supple and appropriately cozy given its $275 msrp, the cotopaxi was more reminiscent of some of the sub-$200 down layers we've tested over the years (for more, see our in-depth review of the expedition pack). There's a plasticky feel both inside and out, and this held true comparing it to key competitors like the patagonia down sweater and outdoor research helium down. Even the budget-oriented rei 650 down hoodie 2.0 had a more premium and cozier hand feel.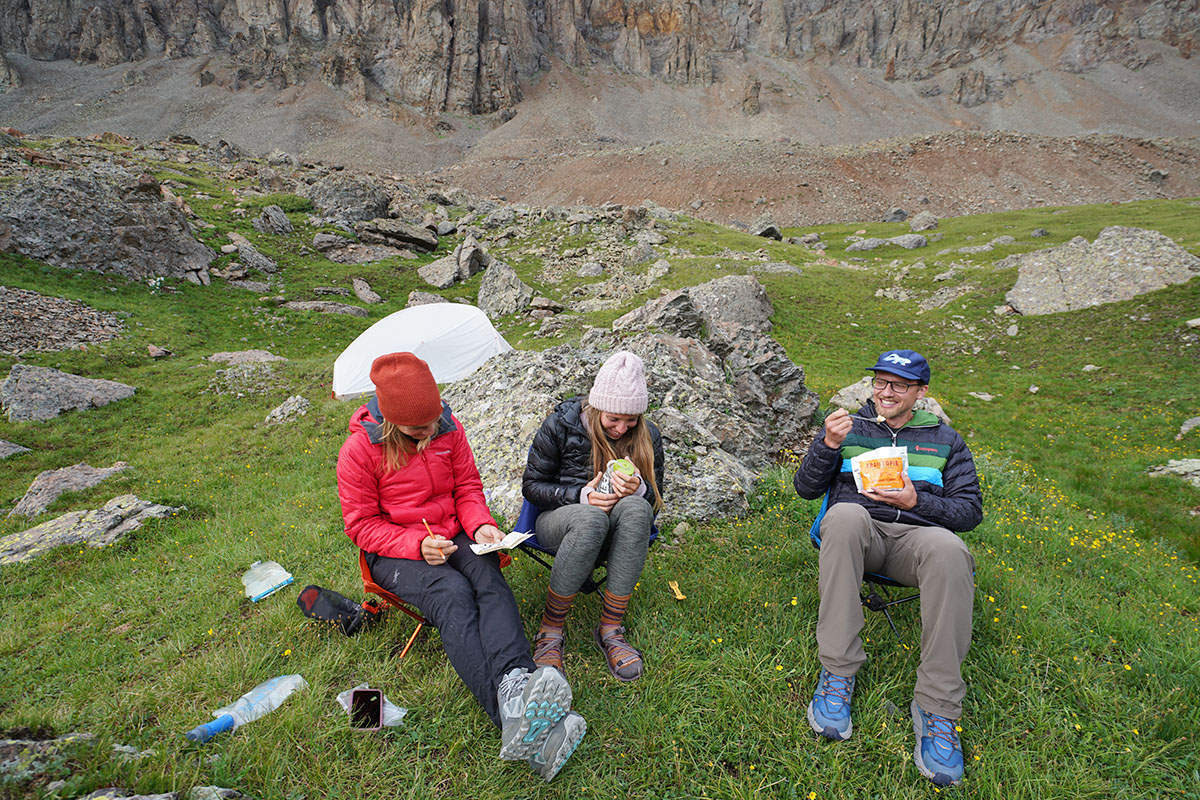 To be fair, the fuego isn't necessarily uncomfortable—this is comparing it to some top-selling down jackets—and the interior lining won't be touching bare skin all that often. Additionally, other important pieces are nicely sorted: the fit is spot-on (more on this below), i didn't have any issues with pinch points or feeling restricted in any area, and the stretchy cuffs secure nicely around the wrists. All told, if cotopaxi can improve the shell and lining material, this jacket could easily become one of my favorites.
Weather Resistance
Down sweaters, and especially those of the crossover casual variety, aren't built to handle wet and super rough conditions. That said, the cotopaxi is reasonably well-equipped should you get caught in a surprise storm. The shell fabric has a durable water repellent (dwr) finish for shedding light rain and snow, and the down fill also has a water-resistant coating to keep it from clumping up quickly (although sustained moisture will do just that). And i've found the shell does a decent job with moderate wind too. It's not backcountry-ready enough to be used as an outer layer should some real gusts hit—you'll want a waterproof hardshell jacket for that—but the fuego will be plenty protective for most.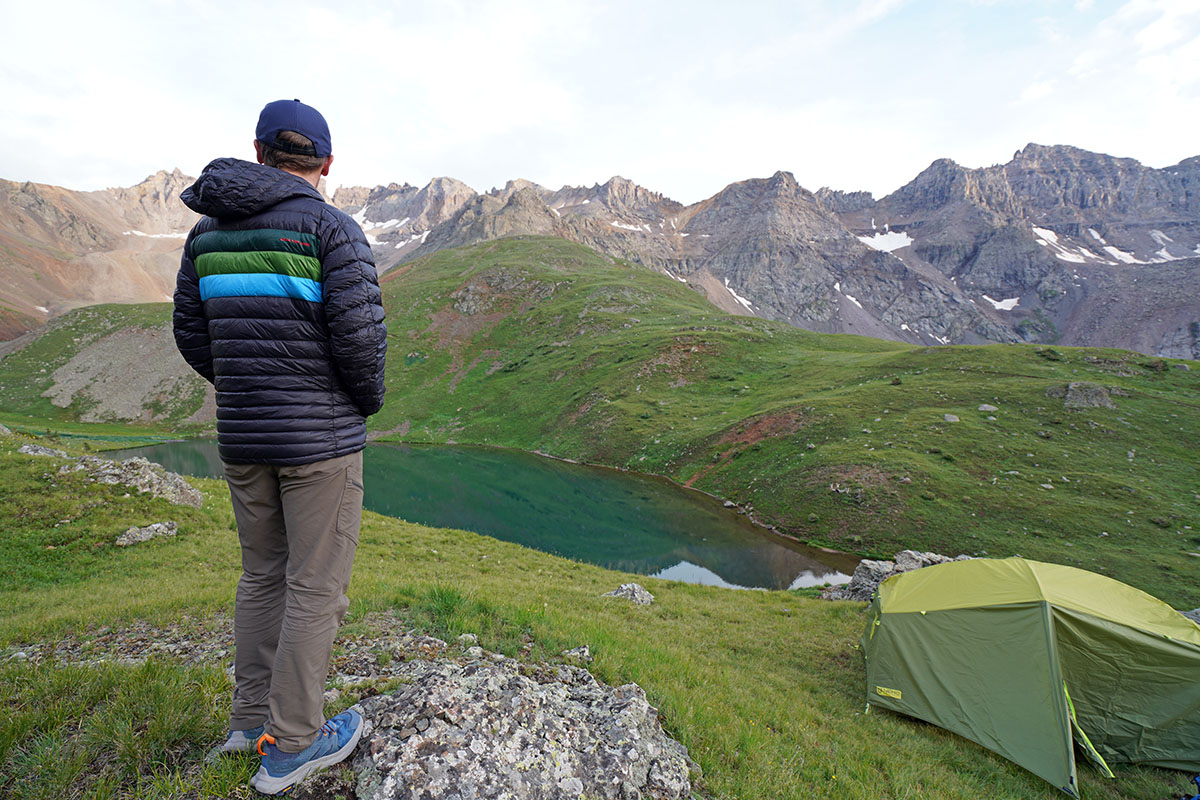 Construction and Durability
We cover our issues with the material quality of the shell and lining in the "comfort" section above, but beyond that complaint, the fuego feels deserving of its $250 price tag. You get high-end 800-fill-power down that's lofty and compressible, the zippers all operate smoothly, and the jacket gets almost universal approval from a styling standpoint (especially in striped, tri-color form). Additionally, the 20-denier nylon ripstop shell is moderately tough for the category (the patagonia down sweater's is slightly thicker at 20dx30d) and should hold up to most everyday and outdoor use provided you take care around sharp equipment (we have the same recommendation for nearly all lightweight down jackets). And importantly, the jacket hasn't shown a tendency to shed down—only a couple feathers have popped out during testing, and i've been able to work them back through the fabric and into the interior.