** This post contains affiliate links, meaning we earn a small commission if items are purchased, it helps us to support the maintenance of the website.
I'm a sucker for mystery, so when an email showed up in my inbox from rick shiels that mentioned "secret golf clubs" from a big brand i couldn't help but click.
And if you're reading this review, you probably already know by now: those secret golf clubs were the callaway edge.
Let's start with addressing that mystery element that got my click.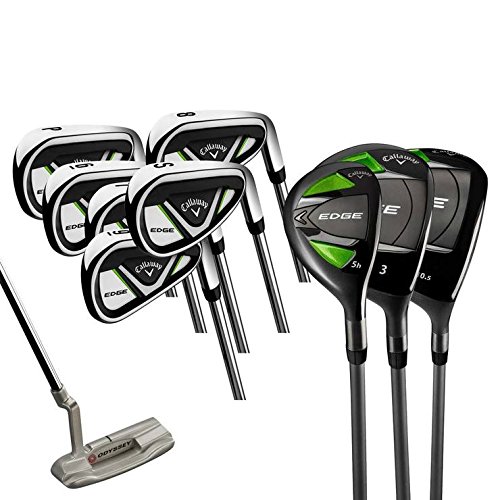 Why are the Callaway Edge considered a "secret"?
It may seem that rick was being a bit hyperbolic. But while the title was a little clickbaity it was kind of true.
Because here's the thing:
You won't find callaway edge anywhere on callaway's website. And you won't find them in most golf stores either.
There's been no promotion. No press releases. No pro endorsements. Just a full set of callaway golf clubs (including driver) for at least half the price of a regular set of callaways, quietly pushed out to the golfing world. Considering the marketing bonanza that normally goes into a new golf club launch, this seems a little odd.
Almost like callaway are embarrassed by the clubs.
But if that is the case it definitely shouldn't be. Because it turns out callaway edge is a darn fine set of affordable golf clubs.
Here's what you get.
What's included in the Callaway Edge set
For the purists, a "full set" of golf clubs would be 14 clubs as that's the maximum number of golf clubs you can carry in your bag.
With the callaway edge you don't get 14, you get 11 (including the putter). But i'd still consider it to be a full set, as let's be honest, as a high handicapper or beginner do you really need (or use) 14 clubs?
Buy the callaway edge and you'll get:
Titanium driver with head-cover
3-wood with head-cover
5-hybrid with head-cover
4 cavity back irons (6–9i)
1 pitching wedge
1 sand wedge
1 odyssey white hot pro putter with superstroke grip and head-coverax
Firstly, even a cheap driver is going to set you back $200. And this isn't a cheap looking (or performing) driver.
Secondly odyssey putters retail for $100-$150. So once you factor in the bag (a decent golf bag will set you back at least $75) it's almost like you're getting the irons for free.
What's missing from the set?
I don't think you'll need to add anything at the distance end. But i'm a fan of a 4 wedge setup, so i'd consider purchasing a gap wedge to fill in the distance between pitching and sand wedge, and a 58 degree wedge for lob shots. Check out our guide to the best wedges for high handicappers here.
If you really need to carry 14 clubs (although trust me you don't) i'd maybe add a 4 hybrid.
In Detail: The Callaway Edge Set
Now let's dig into a bit of detail on the clubs themselves.
I mentioned above that this is no cheap looking driver.
In fact put it side-by-side with the callaway mavrik, or a ping g410 (two of our picks for the best drivers for high handicappers) and it's not going to look out of place.
Callaway say it's an oversize head, which just means that it's the big style you'll see on most modern drivers. So we wouldn't really say that's "oversize" these days, it's just standard.
Materials wise, it's made from titanium which is nice and lightweight and should help you pick up a bit of speed. The (graphite) shaft is also pretty feathery, so again, slower swingers will find they get a bit of extra whip, and hopefully some more distance.
Loft is 10.5 degrees. To be honest, as callaway edge is aimed at beginners, we'd have liked to see this increased to 12 degrees (more loft = less slice) but the low center of gravity should help you get a higher launch.
But all in all, this is a great driver for beginners and higher handicappers.
Callaway Edge 3 wood
Again, the callaway edge 3 wood has a low center of gravity that's going to help you get the ball up in the air and launching towards the target.
Generally in golf terminology (you'll see the phrase used a lot), a low center of gravity means the club is going to be easier to hit.
There's also perimeter weighting that should help to straighten out your ball flight. No point hitting the ball further if it's flying 50 yards offline.
And like the driver, you'll get a graphite shaft.
Callaway Edge hybrid
Hybrids are designed to replace traditional long irons and to be easier to hit.
In the callaway edge set, you'll get a 5 hybrid with 25 degrees of loft instead of a 5 iron. The head is reasonably compact, but has plenty of forgiveness, so for longer approaches (or even off the tee if you need a fairway finder) it's going to serve you well.
And like the 3 wood and driver, it sure looks the part.
Callaway Edge irons review
The callaway edge iron setup is 6, 7, 8, 9, pw, sw.
Unsurprisingly, they're all cavity backs and like most game improvement clubs they're designed to be ridiculously easy to hit and to get the ball up in the air.
The faces are pretty forgiving on off center hits, which means dispersion should also be tighter, and catching a shot a little off the toe shouldn't result in too many lost yards.
While not quite at the forgiveness (and distance) level of ping g410 or taylormade's impressive sim max, if you're currently gaming cheaper (or older) irons you'll find the callaway edge a solid step up.
Odyssey White Hot Pro Putter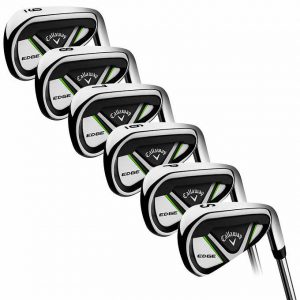 Normally on a "full" set of clubs you'll see a putter that's branded to be the same as the rest of the set. It's going to be the very definition of "no frills".
But here callaway have thrown in an odyssey putter.
And in case you don't know about odyssey, they're making some of the best putters on the market right now. Pros such as marc leishman, kevin na, and webb simpson have all won on the pga tour this year with odyssey putters in their hands.
The odyssey white hot pro is designed to be super stable, which if you tend to push or pull your putts (i'm a puller) is going to help you to sink more of those awkward 3 and 4 footers.
In a nutshell: this is a great putter and the fact it's included in the callaway edge set is a huge plus.
Any negatives?
We're not seeing a huge amount to be down on with callaway edge.
If you're a high handicapper they're definitely going to help your game. And if you're a beginner you're not going to find a better set of clubs at this price point. Sure, you can pick up a really cheap set, but like everything in life, you get what you pay for.
The only thing i would say is if budget isn't a concern, then it would be worth forking out for a set of ping g410 or taylormade sim max and getting properly fitted. Callaway edge is an "off the shelf" buy, so if you're tall or short then they might not be the right fit for you.
But in saying that, you could also get them adjusted (shortened or lengthened and lie angles changed) after purchase, so it's no deal breaker.
And finally, as i mentioned above, i'd probably think about adding a couple of extra wedges to your bag. 11 clubs is plenty to get you out on the golf course, but to fill in the gaps in the scoring zone you'll probably need at least one more wedge
Summary: A great choice for high handicappers and beginners
If you're looking for a set of game improvement clubs that will help you lower your scores, then callaway edge are a great choice.
It's a "full set" for not a lot of money, and they look great too. And as they are "secret" clubs just tell your golf buddies that you paid over $1,500 for a custom fit and they'll never know.