** This post contains affiliate links, meaning we earn a small commission if items are purchased, it helps us to support the maintenance of the website.
Introduction
Extended Stay America is a reputable hotel chain that caters to travelers seeking comfortable and convenient accommodations for extended periods. With numerous locations across the United States, it offers a range of amenities and services tailored to the needs of long-term guests. During my recent stay at Extended Stay America, I found the experience to be pleasant overall.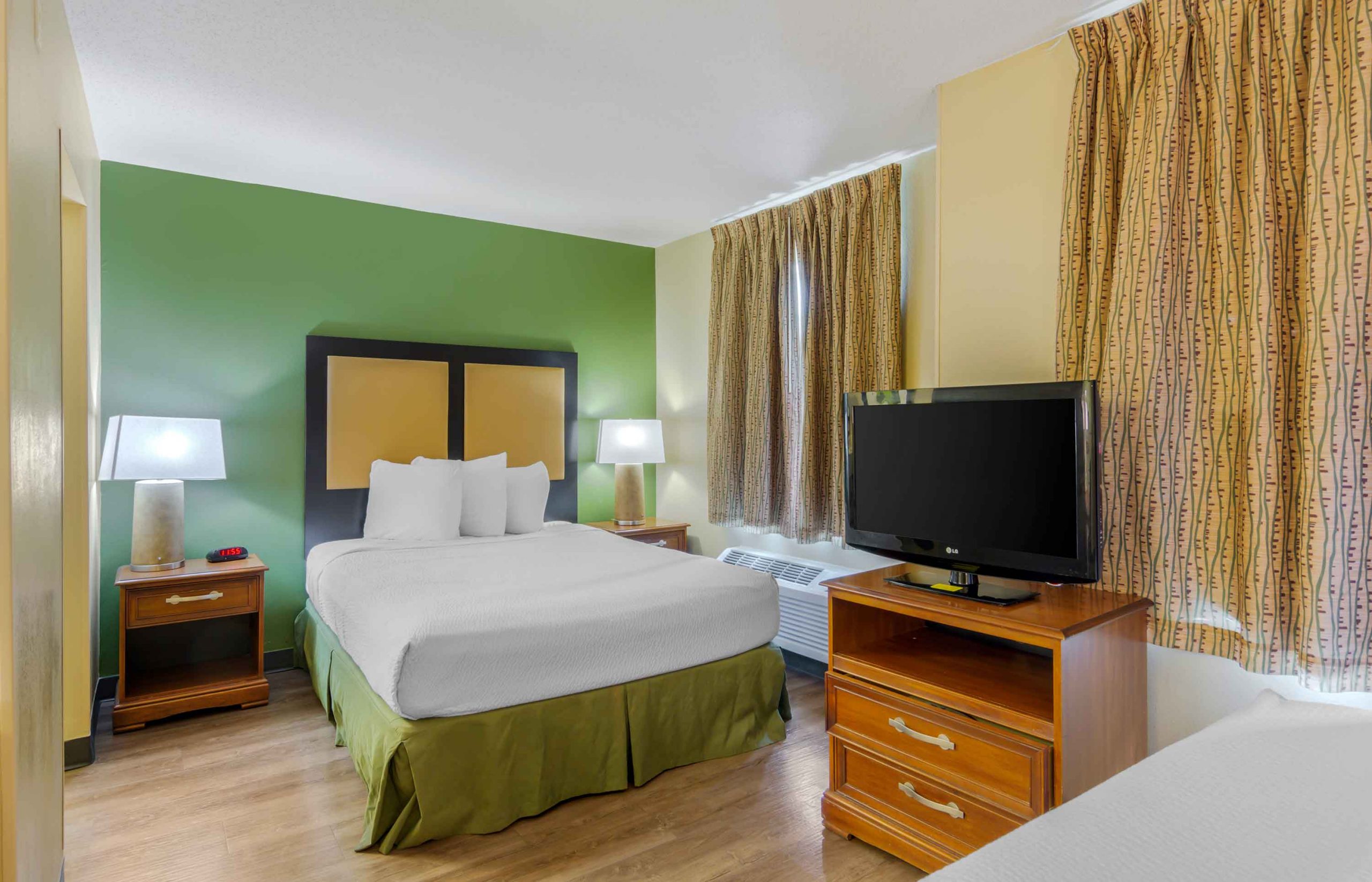 Location and Accessibility
Extended Stay America has strategically placed its properties near major business centers, airports, and popular tourist destinations. This ensures ease of access for guests, whether they are on business or leisure trips. The convenient locations are a significant advantage, allowing guests to save time and effort on commuting to their desired destinations.
Accommodation and Facilities
The rooms at Extended Stay America are designed with extended stays in mind. They offer spacious layouts with separate living, sleeping, and kitchen areas, providing a home-like atmosphere. The bed was comfortable and the furniture well-maintained. The kitchenette was equipped with essential appliances such as a stove, refrigerator, microwave, and utensils, allowing guests to prepare their own meals. This is a valuable feature for those looking to save on dining expenses during extended stays.
The facilities provided by Extended Stay America include complimentary Wi-Fi, which was reliable and fast throughout my stay. The on-site laundry facilities were an added convenience, especially for longer-term guests. The fitness center offered basic equipment for a quick workout, although it could be more extensive. Additionally, some locations have partnerships with nearby fitness centers, providing guests with access to more comprehensive facilities.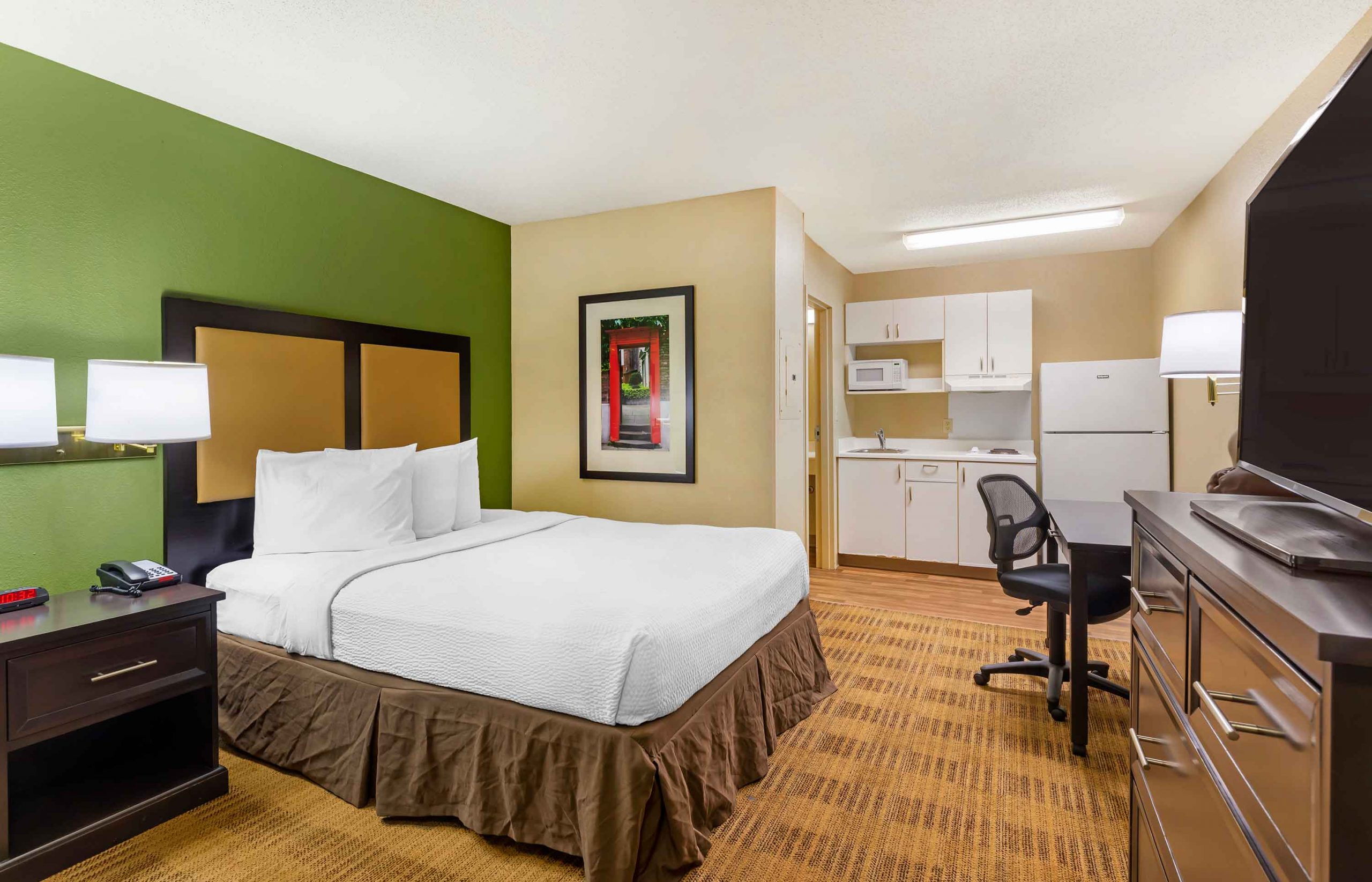 Staff and Service
The staff at Extended Stay America were friendly, professional, and accommodating. They were responsive to requests and always willing to assist. The check-in and check-out processes were efficient, and the front desk staff provided helpful information about the local area. Housekeeping services were available on a weekly basis, ensuring a clean and comfortable environment during longer stays.
Value for Money
Extended Stay America offers competitive rates, particularly for extended stays. The availability of a kitchenette allows guests to save on dining expenses, making it a cost-effective choice compared to traditional hotels. However, it's worth noting that some locations may have additional fees for certain services, such as premium Wi-Fi or daily housekeeping. It's recommended to clarify the fees and services included before making a reservation.
Extended Stay America Rewards Program
Extended Stay America offers a rewards program called Extended Perks, which allows guests to earn points for their stays. These points can be redeemed for future stays, gift cards, and various merchandise. The program provides additional benefits and exclusive offers to its members.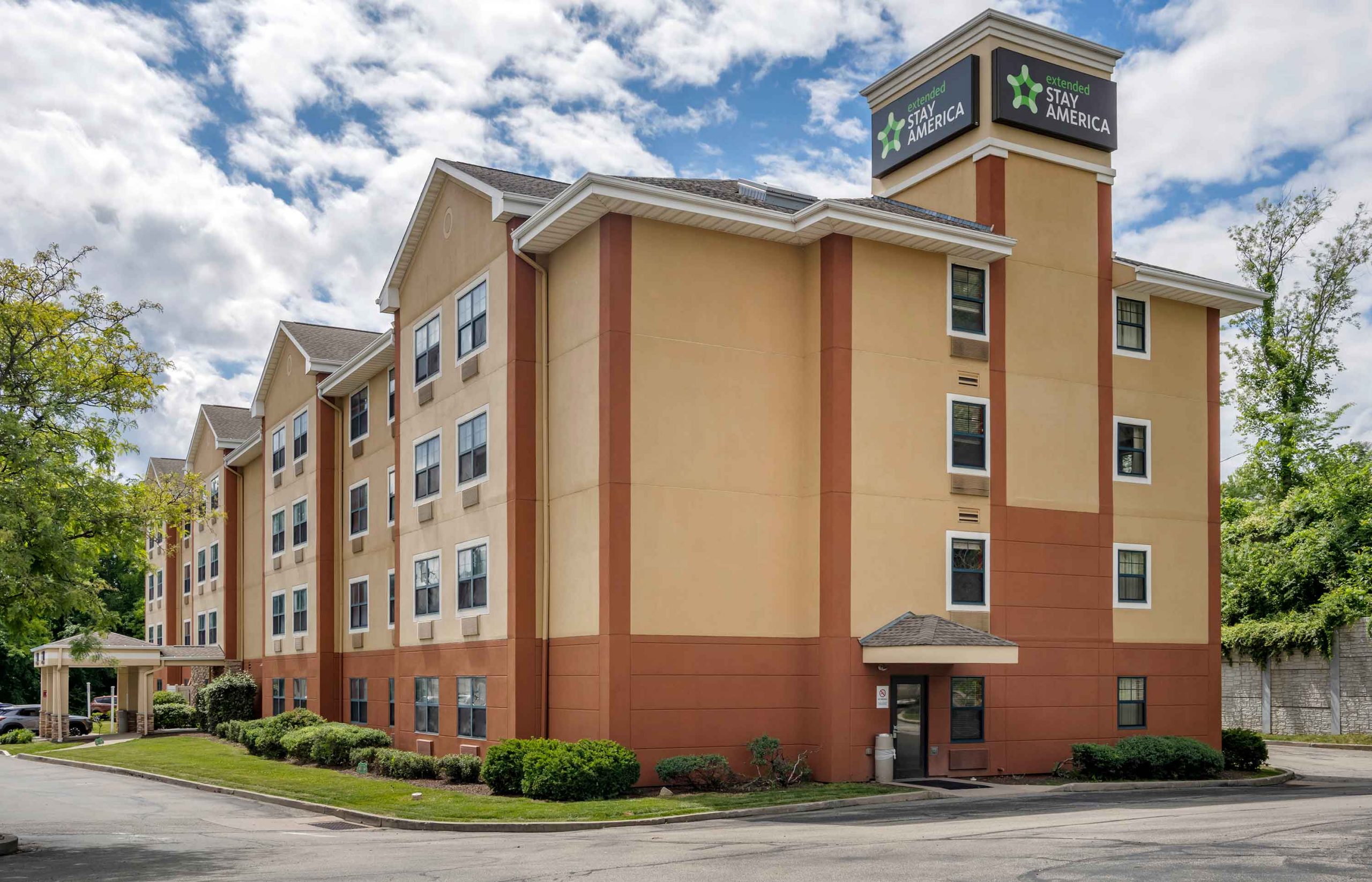 Pet-Friendly Accommodations
Many Extended Stay America locations are pet-friendly, allowing guests to bring their furry companions along. However, it's important to check with the specific property about their pet policy, any size restrictions, and additional fees that may apply.
Grab-and-Go Breakfast
While Extended Stay America does not typically provide a full breakfast buffet, they offer a complimentary Grab-and-Go breakfast option. This includes items like coffee, tea, muffins, granola bars, and fresh fruit, providing a quick and convenient start to the day.
Business Services
For guests traveling on business, Extended Stay America offers various business services such as printing, faxing, and copying facilities. Some locations may also have meeting rooms available for rent, providing a convenient space for business meetings or gatherings.
Extended Stay America App
Extended Stay America has a mobile app that allows guests to manage their reservations, check-in online, and access additional information about the property and local area. The app provides a convenient way to stay connected and make the most of your stay.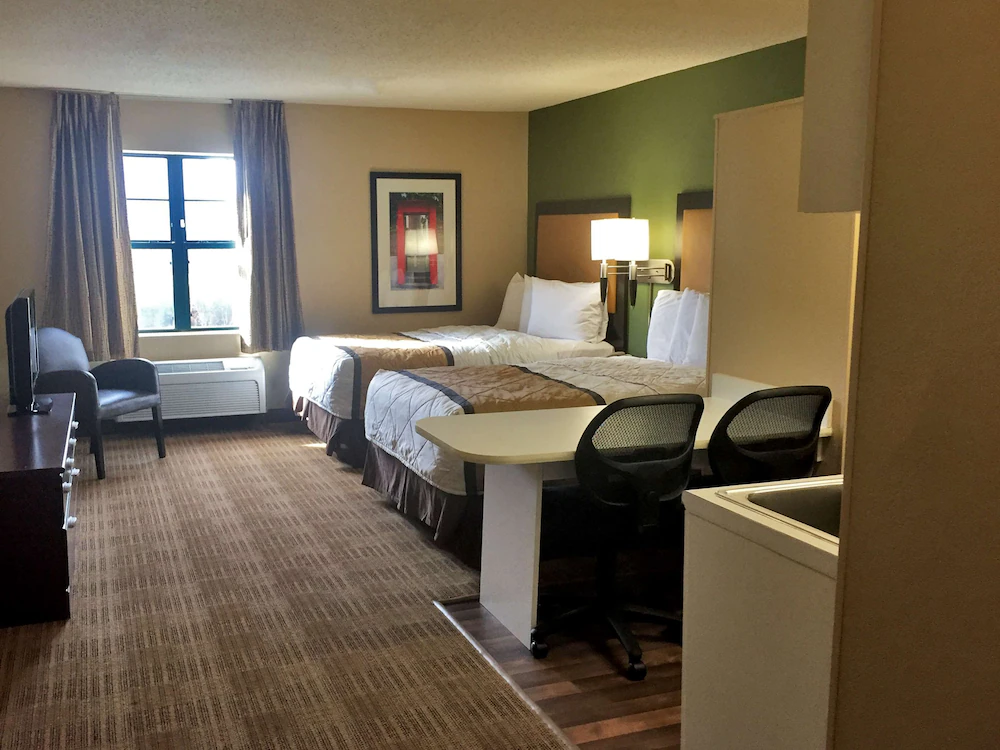 Length of Stay
Extended Stay America is designed to accommodate guests who require longer stays, typically a week or more. However, they also welcome shorter stays, so you can choose the duration that suits your needs.
Flexible Payment Options
Extended Stay America provides flexible payment options for guests. You can choose to pay in advance or opt for a weekly or monthly payment plan, depending on the length of your stay. This flexibility can be helpful for guests who have varying financial needs.
Multiple Room Types
Extended Stay America offers different room types to cater to various preferences and group sizes. You can choose from studio suites, one-bedroom suites, and even suites with multiple bedrooms. This allows you to select the accommodation that best suits your requirements.
Group Bookings
If you're planning to travel with a group or need multiple rooms for an extended period, Extended Stay America offers group booking options. This can be convenient for corporate teams, sports teams, or families traveling together, as it simplifies the reservation process.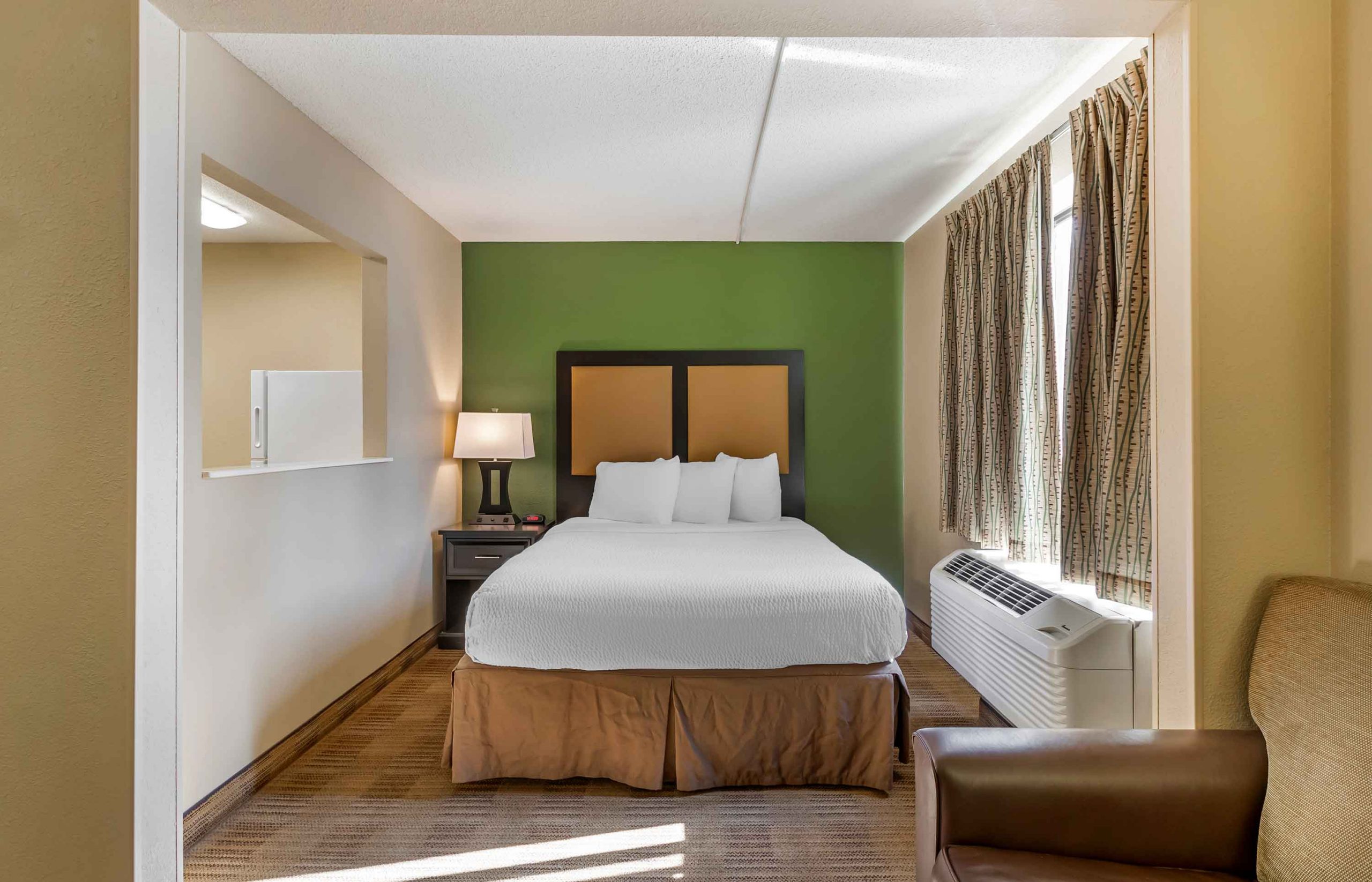 Online Booking and Customer Support
Extended Stay America provides an easy-to-use online booking system, allowing you to conveniently reserve your room in advance. They also have a dedicated customer support team available to assist with any inquiries or issues you may have before, during, or after your stay.
Extended Stay America Plus
Extended Stay America Plus is a premium offering available at select locations. It features upgraded amenities and services such as modern furnishings, enhanced kitchen appliances, and additional perks for an elevated experience. These locations are designed to provide a higher level of comfort and luxury for guests.
Extended Stay Suites
The suites at Extended Stay America are specifically designed for longer stays. They typically feature separate living, dining, and sleeping areas, providing ample space and comfort. The suites are furnished with practical amenities like a work desk, dining table, and comfortable seating, making it easy to relax, work, and dine within the privacy of your suite.
On-Site Convenience Store
Many Extended Stay America properties have an on-site convenience store where you can purchase essential items, snacks, beverages, and even frozen meals. This is especially convenient if you prefer to cook in your suite or if you need to grab something quickly without leaving the property.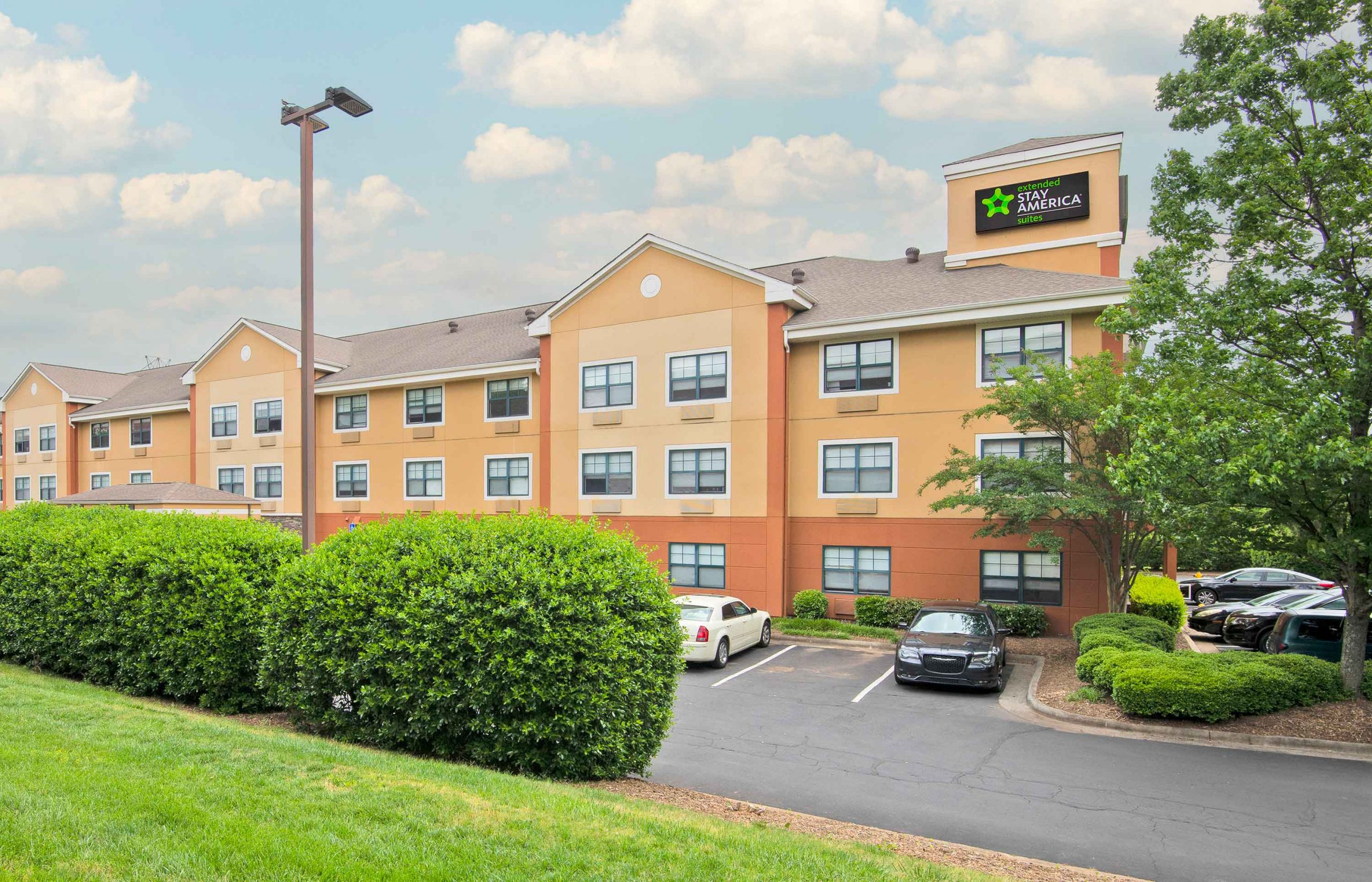 Conclusion:
Overall, Extended Stay America provides a comfortable and convenient accommodation option for individuals or families requiring an extended stay. The spacious rooms with kitchenettes, convenient locations, and friendly staff contribute to a pleasant and hassle-free experience. While there may be some extra charges for certain services, the value for money is generally good. I would recommend Extended Stay America to travelers seeking a comfortable "home away from home" for extended periods.