** This post contains affiliate links, meaning we earn a small commission if items are purchased, it helps us to support the maintenance of the website.
Choosing between these two top designer jewelry brands, David Yurman and Tiffany & Co, can be a difficult task, so let this David Yurman vs Tiffany & Co article help you out.
If you are looking at buying a new bracelet or ring, or perhaps gifting someone a stunning necklace or pair of earrings, you may be wondering which luxury jewelry brand to go for. You may have considered both David Yurman and Tiffany, which are two world-renowned jewelry brands with long histories.
If you're having a hard time choosing between the two, this article will help you uncover their differences, and delve into the histories of these fine jewelry brands. We will also be sharing our favorite products from each jewelry house before coming to a conclusion on David Yurman vs Tiffany & Co.
David Yurman Vs Tiffany & Co
The History Of David Yurman
David Yurman jewelry was founded by David and Sybil Yurman in the 1970s in New York City. David Yurman began as an apprentice to various sculptors before meeting his future wife, Sybil, who was a painter.
Sybil and David moved to upstate New York and formed a business that specialized in sculptural jewelry, quickly becoming two very important figures in the American craft movement.
Throughout the 80s and 90s, Yurman's jewelry continued to be very successful and they were at the forefront of new American jewelry designers.
In 1982, David Yurman created the cable bracelet, which became a designer signature in their collection and was in high demand – the bracelet was a twisted helix with gemstones on the end caps. This twisted design now links together the entire David Yurman brand, featuring in many different jewelry collections.
Another innovative advancement in the jewelry industry by David Yurman was setting pave diamonds in silver – which he called Silver Ice and transformed diamonds into an everyday luxury.
David Yurman's men's collection has been led by Evan Yurman since 2004 and is unique in the jewelry business. The men's collection uses many unusual materials including titanium, carbon fiber, and meteorite in its designs.
As one of the top American jewelry brands, David Yurman has launched campaigns including Kate Moss, Naomi Campbell, and Gisele Bündchen.
The History Of Tiffany
Tiffany & Co is perhaps the best-known American luxury jewelry brand in the world. The brand was founded in 1837 by Charles Lewis Tiffany but became wildly successful in the 20th century under the leadership of his son Louis Comfort Tiffany.
Now, the brand is one of the most famous luxury brands, featuring lyrics in songs and in the names of films – most famously Breakfast at Tiffany's.
Tiffany's began as a 'stationery and fancy goods emporium' in Brooklyn, New York before the company started putting more focus on jewelry collections in 1953. In 1845, the brand's mail-order catalog was launched to advertise their luxury goods, and allow people all over America to purchase Tiffany jewels. This 'blue book' continues to be published in the 21st century.
The success and dominance of the Tiffany brand were shown in 1879 when the company purchased one of the world's biggest yellow diamonds, which was then named the Tiffany diamond. The weight is 128.54 carats and it has only been worn by four people, including Audrey Hepburn during the promotion for Breakfast at Tiffany's. It now sits in Tiffany's flagship store in midtown Manhattan.
Tiffany & Co continued to grow throughout the 20th century, becoming a well-established and influential American brand – even the famous Tiffany blue color has been trademarked and is now a private custom color produced by Pantone.
Presently, Tiffany is known for its world-famous jewelry collections and engagement rings and continues to be one of the most coveted jewelry brands in the world.
The Differences Between David Yurman And Tiffany & Co
Perhaps the most helpful thing to do to help you decide on one brand over the other is to look at the differences between David Yurman vs Tiffany. Here we will look at the price range for each brand, the resale value, and the designs available from each brand.
1. PRICE RANGE
In the jewelry industry, the price ranges for bracelets, rings, necklaces, and earrings can vary greatly, and the price ranges between Tiffany and David Yurman are quite different. This may come in handy if you're are thinking about your budget and how much you want to spend on a new piece of jewelry.
First, for bracelets at Tiffany, you are looking to spend between $250 and $95,000, depending on the metal and number of diamonds. At David Yurman bracelets are sold between $325 and $70,000 – the most affordable bracelets are more expensive than Tiffany, however, there are fewer really expensive pieces on offer.
For everyday rings, the price ranges are pretty close. David Yurman rings are sold for between $165 and $36,000, while Tiffany & Co rings are on offer for $275 or up to $35,000 online. With this said, both brands offer beautiful engagement rings with a POA tag, meaning the full collections aren't available online.
3 Brilliant Ways To Save
With Tiffany having more heritage as an engagement ring manufacturer and designer, their engagement rings cost slightly more in reality. You can find beautiful ones around the $10k mark, but the more expensive ones go for well over $100k, with the most expensive ring reportedly having been sold for more than $1.45 million.
For David Yurman, most of the engagement rings are roughly in the same price range, with top-end engagement rings fetching a reported $90k.
Next, if you look at the price of earrings, at Tiffany you could pay $175 for a single earring, while the most expensive pair is $45,900. At David Yurman, earrings are only sold in pairs, with the most affordable being $275, and the most expensive sold at $21,500.
Lastly, necklaces from David Yurman range from $165 to $95,000, while at Tiffany, the price range is $100 to $180,000.
As you can see, Tiffany offers more expensive jewelry, however, the prices on average are roughly the same, depending on what products you go for.
2. RESALE VALUE
Despite similar price ranges, Tiffany jewelry holds its value much better than David Yurman. Tiffany often creates iconic collections that are part of the top trends and therefore jewelry from the brand is highly desirable, both new and on the resale market.
Also, the Tiffany packaging is pretty famous so jewelry with the original box and dust bag will also hold its value better than Tiffany & Co. pieces without the packaging.
David Yurman, on the other hand, is a slightly less well-known fine jewelry brand, and therefore items from this brand do not hold their value as well – at least not yet. Also, David Yurman's jewelry is not so instantly recognizable as Tiffany's and, as a consequence, does not sell for as much as Tiffany's jewelry does.
3. BRAND VARIETY/AESTHETIC
Another difference between David Yurman and Tiffany is the different designs and aesthetics they have on offer.
David Yurman jewelry is known for its iconic cable design, which is a signature style of the brand. This is a stunning design, but most David Yurman jewelry features this design – so if this cable detail isn't really your style, then maybe David Yurman is not the right jewelry house for you.
Tiffany, however, offers a very wide range of jewelry and lots of different collections in different styles – including Tiffany Knot, Elsa Peretti, and Tiffany Keys. If you are looking for more variety and more choices, then Tiffany & Co is definitely the jewelry brand to head to.
Our Top Picks From Tiffany Vs David Yurman
There are loads of incredible statement pieces from both David Yurman and Tiffany so it can be difficult to narrow down the choice. We've chosen some of our favorite items from each brand to help you decide which brand to go for and perhaps even which luxury piece to buy!
1. BRACELETS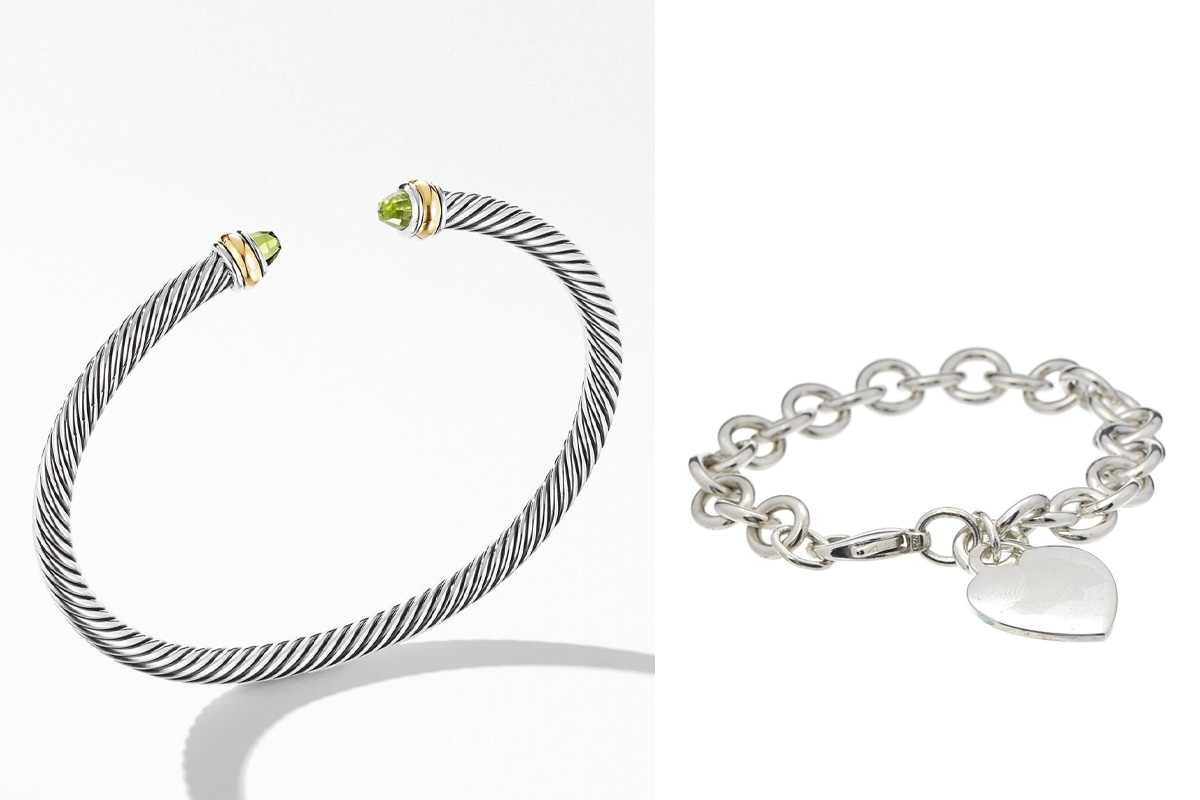 Both of these top-quality jewelry brands have created some stunning bracelets, here are just two that we love.
The David Yurman cable design is an iconic element of the brand. That spectacular sterling silver twisted design has been formed into a 4 mm Cable Classics Bracelet that is irresistible.
The bracelet is decorated with two semiprecious stones in various different colors for that little extra sparkle – we love the onyx, amethyst, pearl and peridot in particular. This bracelet is the perfect stacking piece to combine with other silver jewelry, or just worn on its own for a simple glam look.
There is perhaps no piece more classic than the Tiffany sterling silver heart charm bracelet. The oval-linked bracelet is a timeless design that will add a touch of glam to any look, day or night.
The heart charm, which has a small Tiffany & Co engraving, is quintessentially Tiffany and instantly recognizable. If you are looking for a simple yet stylish bracelet that you can wear all the time, then this is the one to go for.
2. RINGS

Tiffany & Co and David Yurman rings are just gorgeous, making it really difficult to narrow down the selection to just two.
The X Crossover Ring from David Yurman is a classic piece from the brand that is utterly striking. Again, the cable design has been incorporated into the design and sized down to fit perfectly around your finger. The sterling silver ring looks equally beautiful worn by itself or stacked with another ring on your finger.
The Tiffany T collection is iconic in the world of luxury jewelry. Synonymous with Tiffany & Co, the T features across the brand's full range of jewelry, including earrings, necklaces, and rings, as shown here.
The T ring is made from 18-karat rose gold, with that beautiful pink warmth, and is then embellished with round brilliant diamonds, highlighting the two T's that wrap around the finger – just incredible!
3. NECKLACES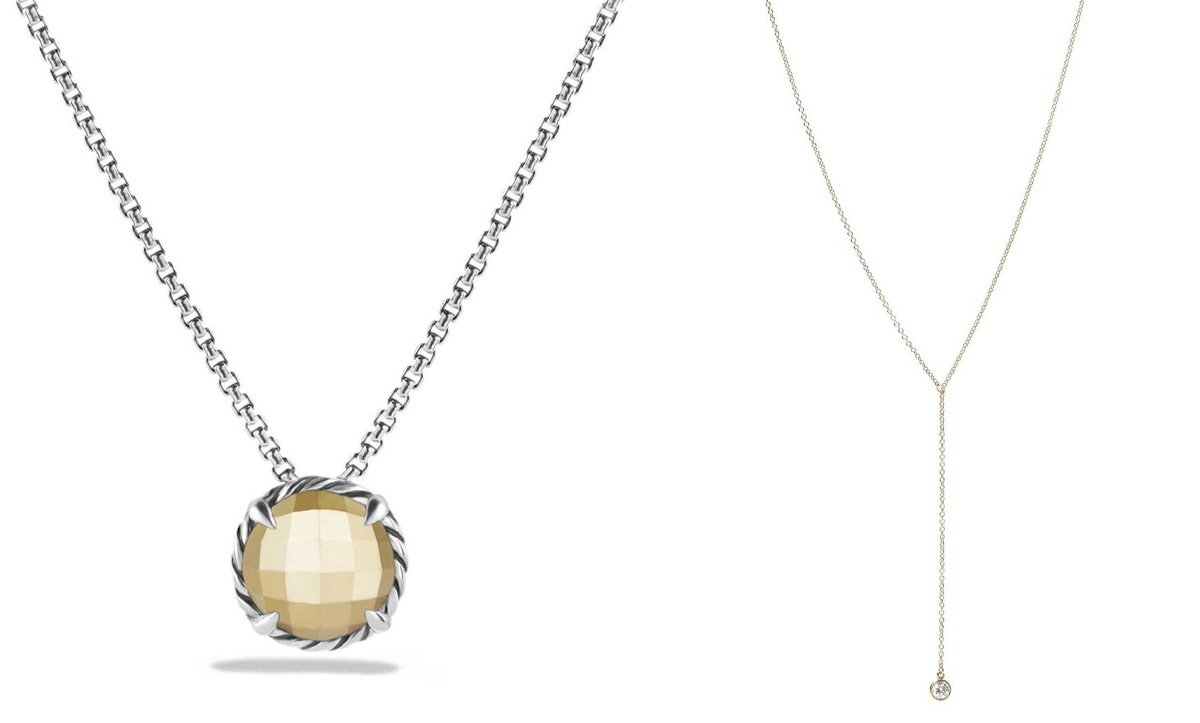 A classic, timelessly designed necklace is the perfect accessory for any outfit – here are just two options from David Yurman and Tiffany.
Available in sterling silver and finished off with a semiprecious stone, the Châteleine Pendant Necklace is exquisite in every finish that it comes.
A delicate chain links form the necklace, which features a dazzling pendant with your choice of either a pearl, a blue topaz, black onyx, black orchid, or gold dome finishing. This is a simple design that will look perfect both with a casual look or dressed up on an evening out.
If you are looking for something that is a little more of a statement, then this Tiffany & Co. piece is just what you need. This elegant necklace is made from 18-karat yellow gold and is fitted with an optional lariat element that connects to the necklace and sits neatly on the décolletage, finishing with a bezel set diamond.
This necklace would perfectly suit any low-cut neckline dress or blouse.
4. EARRINGS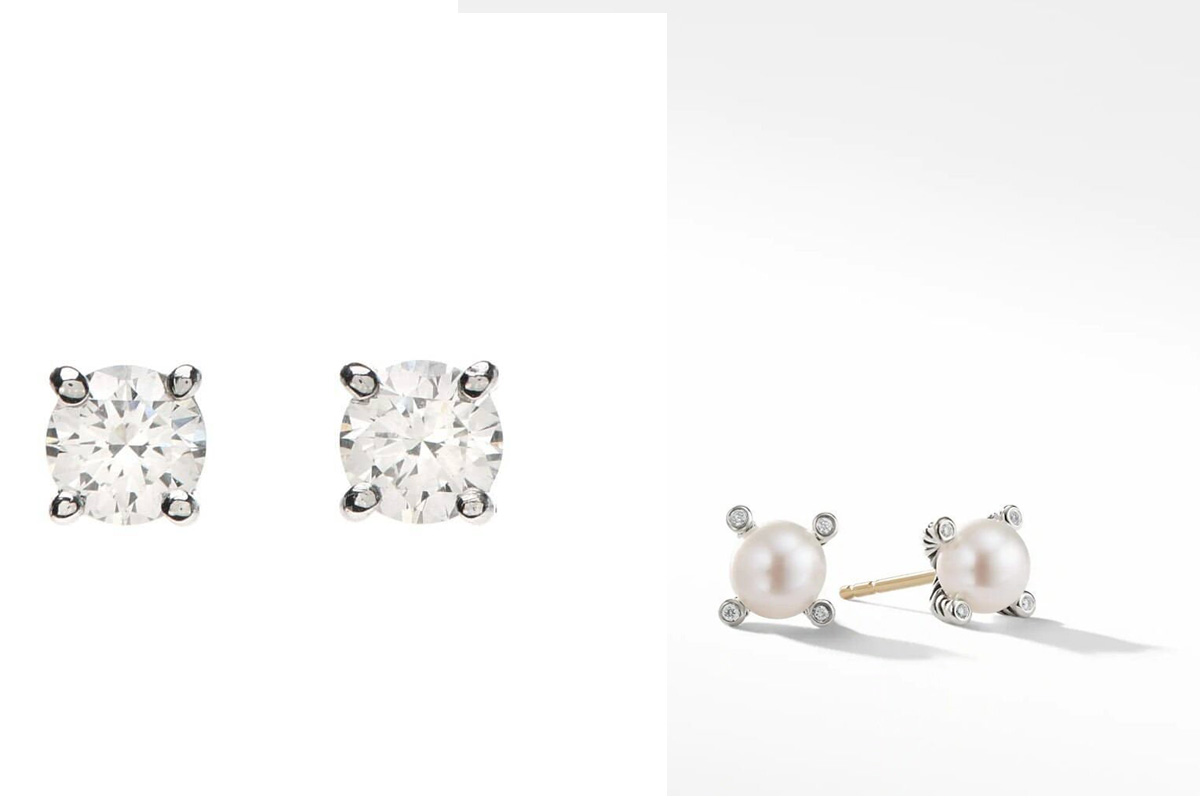 Everyone needs a pair of high-quality, versatile earrings in their jewelry collection, and these two pairs from David Yurman and Tiffany definitely fit the bill.
These sterling silver and pearl earrings from David Yurman will suit any and all outfits – they're the perfect pair of earrings you really need to own. The David Yurman signature cable motif not only holds the white cultured freshwater pearls in place but is also decorated with pavé diamonds to add that element of sparkle.
These classic yet contemporary earrings look incredible on their own or combined with other pieces, offering a lot of versatility.
As for Tiffany, you can never go far wrong when buying a pair of Tiffany's diamond earrings. The diamonds in these earrings are solitaire cut for that timeless feel and weigh approximately 0.32 carats.
These diamond earrings would make the perfect finishing touch to any look, formal or casual, and would last a lifetime. The butterfly back ensures they are secure on your ear so you can love them forever – just perfect!
Conclusion
Both companies produce high-quality jewelry that carries a very similar price tag. While you can't go wrong with either, we would argue that they cater to a slightly different target audience.
David Yurman would be your perfect jewelry brand if you love the more modern, innovative, and slightly edgy twisted cable design that is a signature of the brand.
While David Yurman is very well-known in America, they aren't nearly as popular in the rest of the world. Thus, it's also a great brand to head to if you're looking for unique pieces with a bit of personality, and that aren't instantly recognizable by everyone around you.
We would also recommend heading to David Yurman if you are looking for men's jewelry because their use of unusual materials adds a fun, masculine twist to their pieces of jewelry.
However, if you are looking for classic, iconic, timeless jewelry that you can potentially pass on to your children (and you don't have a tight budget) then Tiffany jewelry is perfect for you.
The brand offers so much choice, and all jewelry is gorgeously designed so you are bound to find something that suits your personal style. Also, if you love logos and instantly recognizable trademarks, Tiffany is the brand for you. Plus, how can you resist opening up that famous blue Tiffany blue box that contains your new stunning item of jewelry?