** This post contains affiliate links, meaning we earn a small commission if items are purchased, it helps us to support the maintenance of the website.
About Skims
Perhaps attaining that Kim K bod isn't too far from reach. Skims specializes in women's intimates, ranging from shapewear, bras, and panties. The brand is definitely a contender within the lingerie business, as it boasts over 3.4 million followers on Instagram.
Founded by Emma Grede and Kim Kardashian in 2019, this Californian brand has managed to 'break the internet' for its inclusive collection of apparel. It also doesn't hurt that they're affiliated with numerous celebrities, including Kylie Jenner, Sofia Richie, and Ashley Graham.
About Spanx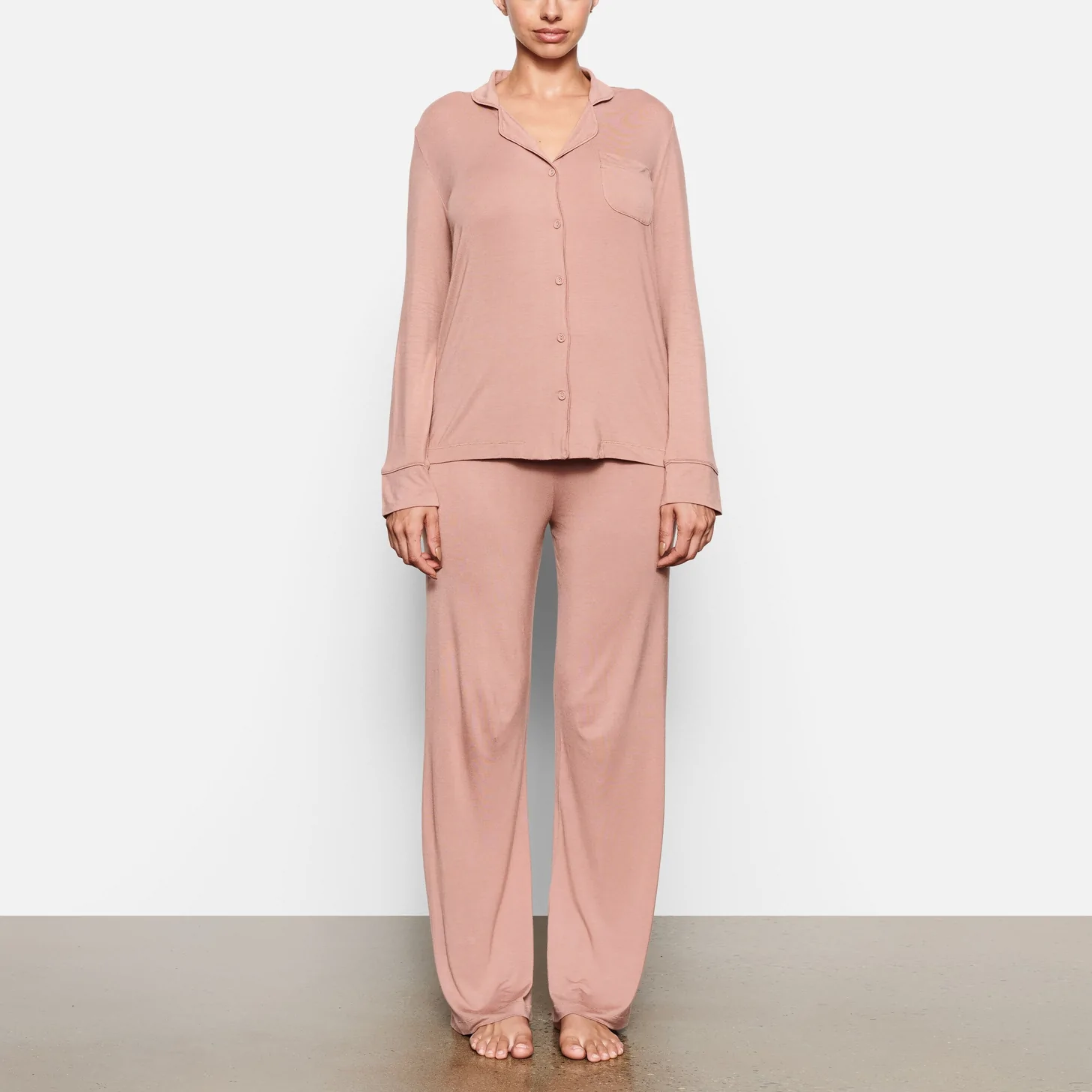 Considered the OG of shapewear, Spanx has been making women's intimates since 1998. It's the brainchild of Sara Blakely, who felt disappointed with the lack of quality undergarments on the market.
The solution was a haphazard cut of pantyhose, which was later rebranded as Spanx. Now synonymous with pop culture, this Georgia-based brand has been featured in various media outlets over the years, including CNN and Vogue. They also showcase an impressive following of over 655k on Instagram.
Shapewear continues to be an important asset in a woman's closet. If you're looking for your forever brand, there's a good chance that you'll settle for one of these main two. The question is, what company is worth your time and money?
Hopefully, this Skims vs Spanx review will help answer that question for you, as I'll provide a rundown of their products, quality, and price in a side-by-side format.
What to Consider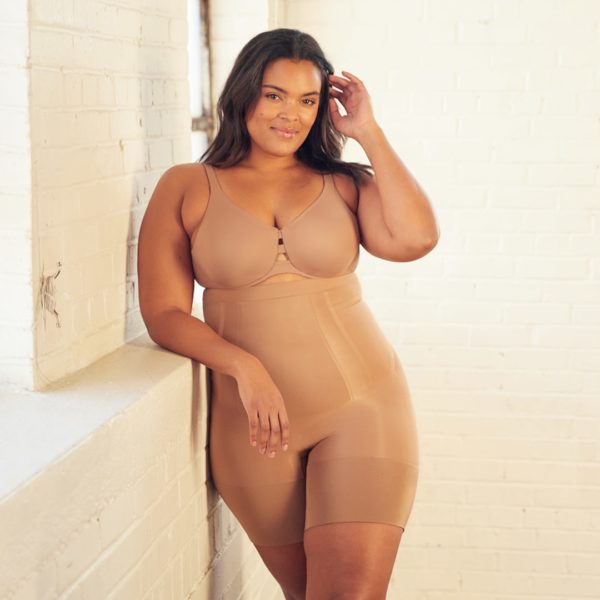 Target audience
When it comes to shapewear, brands usually use three main assets to successfully target their audiences: size, inclusivity, and aesthetic.
To further break things down, size relates to their range of measurements; inclusivity entails their product pictures and company mission, and aesthetic mainly boils down to daring silhouettes and conservative designs. Where you fall on the spectrum dictates what shapewear company is right for you.
Product range
Do you prefer a large selection of options? Or do you shop best with a small collection of items? In most cases, loud and proud designs usually span by the hundreds, while minimalistic styles only come by the dozens. It's worth noting that this doesn't just apply to shapewear, as it can also entail jeans, swimwear, and other types of apparel.
Materials and sustainability
Like swimsuits and sports bras, materials serve as an integral part of making the perfect shapewear piece. The finished product should be flexible, supportive, and conforming to your body shape. If you're an ethical shopper, you're probably on the lookout for recycled or biodegradable materials such as upcycled spandex or Tencel.
Style and fit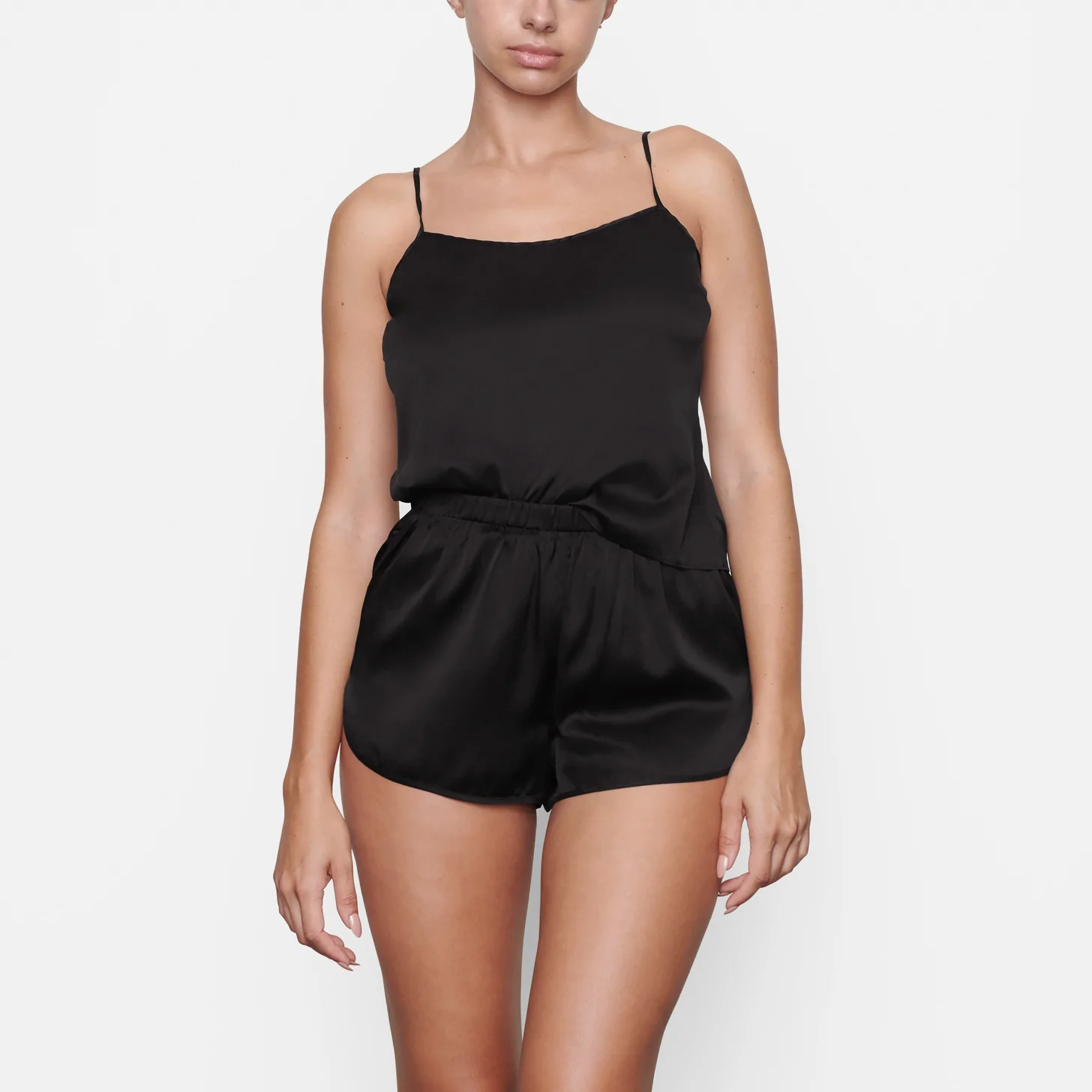 If you don't like it, you're not going to wear it. Style is as crucial as functionality when it comes to apparel, as it's indicative of your personality and fashion tastes. Of course, aesthetics can only go as far as the product's quality. If something fits poorly, there's a good chance that it's doomed for the closet dust bunnies.
Accessibility
Nobody likes a super-exclusive brand. An ideal company would carry its inventory on its official site, through multiple brick-and-mortar stores, and on several partnered retailers. It's also important that they offer fair prices to accommodate budget-conscious shoppers. In addition, you should be on the lookout for any subscription plans to help save money along the way.
Skims Sculpting Bodysuit with Snaps vs Spanx OnCore Open-Bust Mid-Thigh Bodysuit Review:
Everybody wants the snatched bod. While some turn to strict diets, others opt for the ready-to-wear option in the form of shapewear.
Case in point, the Skims Sculpting Bodysuit with Snaps and the Spanx OnCore Open Mid-Bust Mid-Thigh Bodysuit can help users achieve that hourglass figure. Both options are designed to be worn under outfits, but hey—if Kim K can wear underwear as outerwear, so can you.
Below, this Skims vs Spanx review will provide a side-by-side outline of what each bodysuit offers.
Skims Sculpting Bodysuit with Snaps: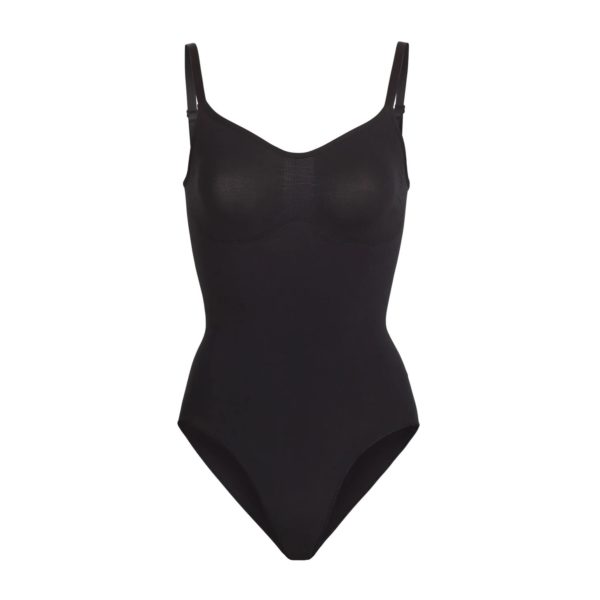 Designed in a classic one-piece silhouette with adjustable spaghetti straps
Seamless, high-cut, and comes with sheer butt pockets to prevent 'flattening'
Built with a snap enclosure on the gusset for easy access
Made to smoothen the upper back
Available in 9 different colors from sizes xxs to 5x
Costs $62 (offers Afterpay)
Spanx OnCore Open Mid-Bust Mid-Thigh Bodysuit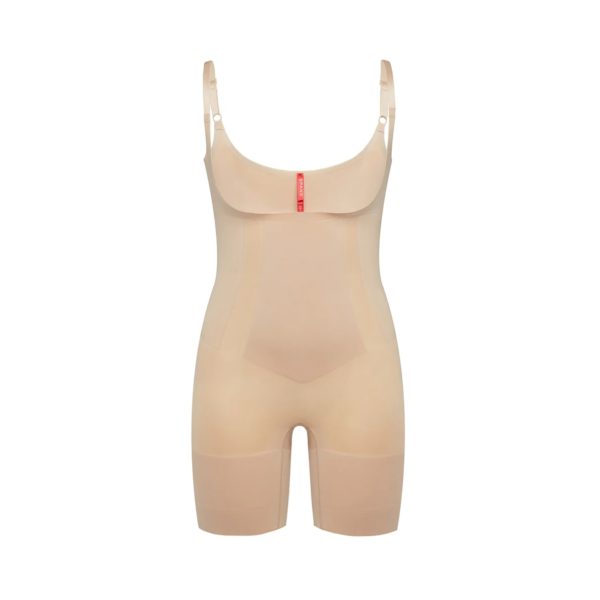 Offers a semi-coverage silhouette that allows you to wear a bra over top
Built with tummy and side panels for added compression
Invisible hems to prevent bulkiness
Made with booty-lifting pockets
Features a snap enclosure on the gusset
Available in 2 colors in sizes xs to 3x
Costs $78 instead of its original $98
Honestly, the differences are quite obvious with this one. The Sculpting Bodysuit with Snaps is for those who prefer a seamless fit without the support of a bra. Ultimately, it's a much more breathable alternative for the warm season.
The OnCore Open Mid-Bust Mid-Thigh Bodysuit gives users the option to wear something supportive, which serves as a helpful asset in case you're looking to 'dress things up.'
The Skims and the Spanx version serve different purposes. While they're widely dissimilar in price, I'd urge you to consider your needs first before opting for the 'cheaper' version.
Skims Fits Everybody T-Shirt Bra vs Spanx Bra-llelujah!® Lightly Lined Full Coverage Bra Review:
Bra shopping is a hassle and a half. If you're looking for adequate support and a comfortable fit, perhaps it's time to give Skims or Spanx a try.
The Everybody T-Shirt Bra and the Bra-llelujah Lightly Lined Full Coverage Bra both promise the same degree of functionality and flatter-ability through their simplistic designs. There are no lace and frills here. If anything, both options act as your 'casual Tuesday' alternative.
Can't settle on a design? This Skims vs Spanx review will provide a neat comparison between the two.
Skims Everybody T-Shirt Bra: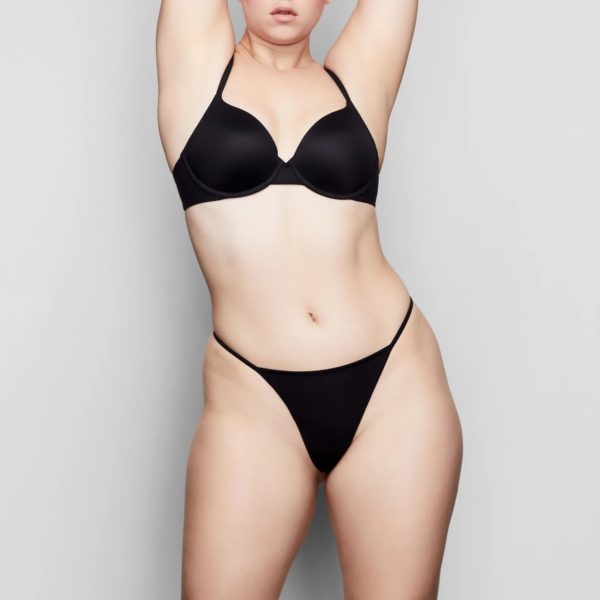 Made out of a soft blend of nylon and spandex
Built with adjustable shoulder straps
Features full coverage cups and a classic hook-and-eye closure at the back
Comes in band sizes 32 to 44
Cup sizes include A to DDD
Available in 9 different colors
Costs $48 (offers Afterpay)
Spanx Bra-llelujah Lightly Lined Full Coverage Bra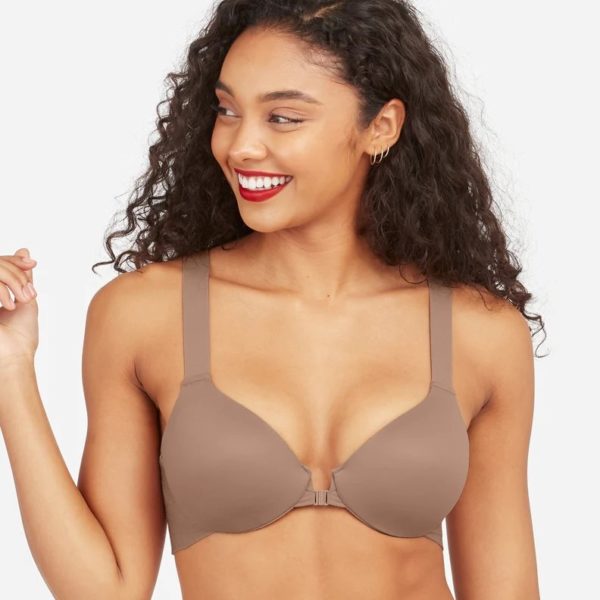 Designed to smoothen lumps and bumps
Built with Spanx Smart Straps to prevent shoulder digging
Offered with a hook-and-eye enclosure at the front
Made out of a blend of elastane, cotton, nylon, and lycra
Comes in band sizes 32 to 40
Cup sizes include A to DD
Available in 8 different colors
Costs $54 instead of its original $68
Like all bras, it really boils down to your design preferences. For those who prefer the classic back closure, the Skims Everybody T-Shirt Bra can serve as a great option.
But for those who can't manage to fasten clasps blindly, the Spanx version can act as an excellent substitute. In addition, the differences also entail size since it seems that the Skims alternative can accommodate a wider range of band and cup measurements.
So, what bra will you opt for? If you end up picking one of the two, this Skims vs Spanx review is sure that it'll offer the comfort and fit you've been searching for.
Skims Maternity Sculpting Short Mid Thigh vs Spanx Mama Short Review: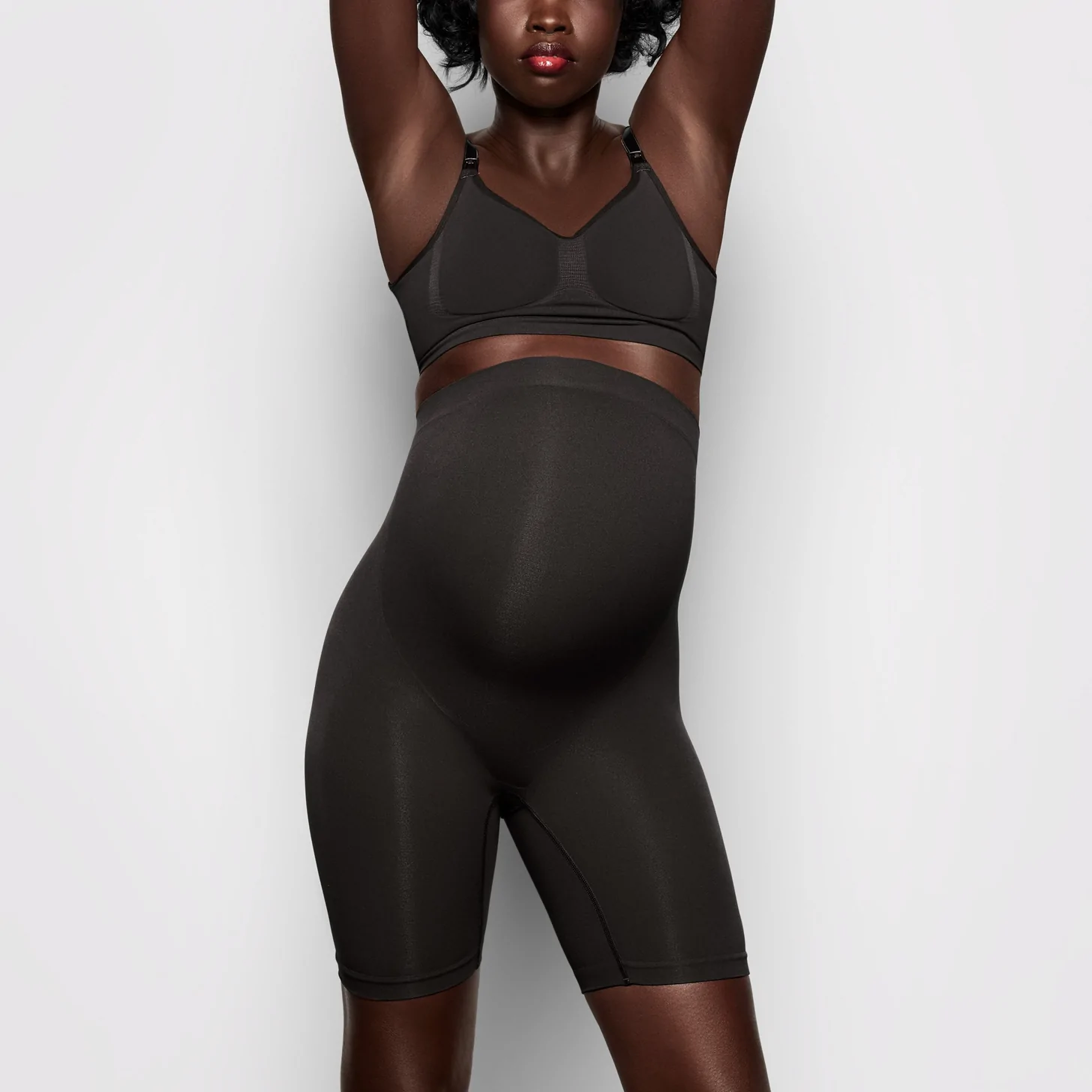 Just because you're expecting doesn't mean you have to settle for loose dresses and leggings. It's time to adopt that hot mama persona—easily achievable by getting the right type of shapewear. The Skims Maternity Sculpting Short Mid Thigh and the Spanx Mama Short both provide that needed support to help flatter the biggest of belly bumps.
Need a quick rundown of what each option entails? No worries; this Skims vs Spanx review has gathered a few salient points to help in the decision-making process.
Skims Maternity Sculpting Short Mid Thigh: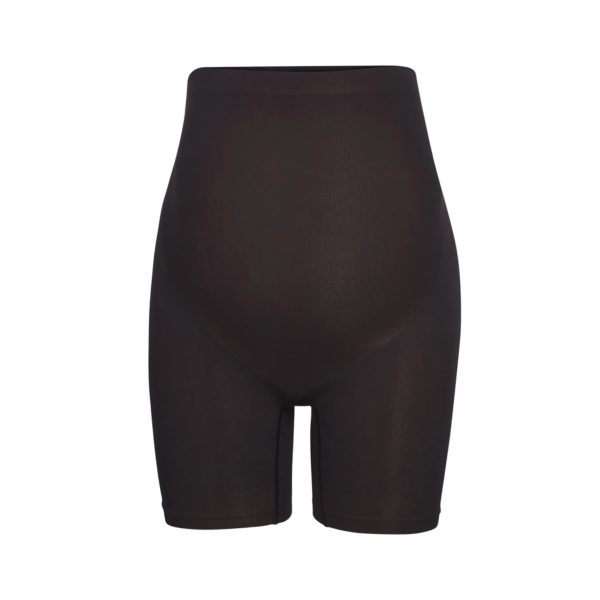 Designed with a non-compressive core to help accommodate growing bellies
Made to contour the thigh and butt
Built with a silicone placement on the waistband to prevent rolling
Features an open gusset
Available in sizes xxs to 5x
Offered in 9 different colors
Costs $34 (offers Afterpay)
Spanx Mama Short: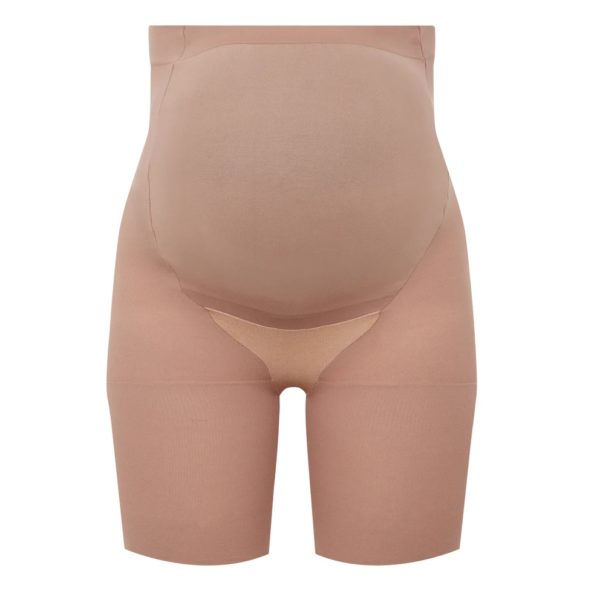 Also made with a non-compressive belly band to accommodate growing bumps
Features zones for added back support
Built with a cotton gusset to prevent visible panty lines

Available in sizes A to D

Offered in 3 different colors
Costs $26 instead of its original $32
The Skims and Spanx versions offer separate degrees of support. While both come with a non-compressive core, features differentiate in regards to crotch gussets, waistband construction, and sizes.
If you're looking for a quick-removal option in case of emergencies, the Maternity Sculpting Short Mid Thigh may serve as a better option. The Mama Short, on the other hand, provides a casual fit that's probably ideal for the first trimester.
At the end of the day, I think we can all agree that the Spanx and Skims version are an upgrade from the everyday biker short. Ultimately, it's up to you to crown the winning victor.
Skims vs Spanx: Quality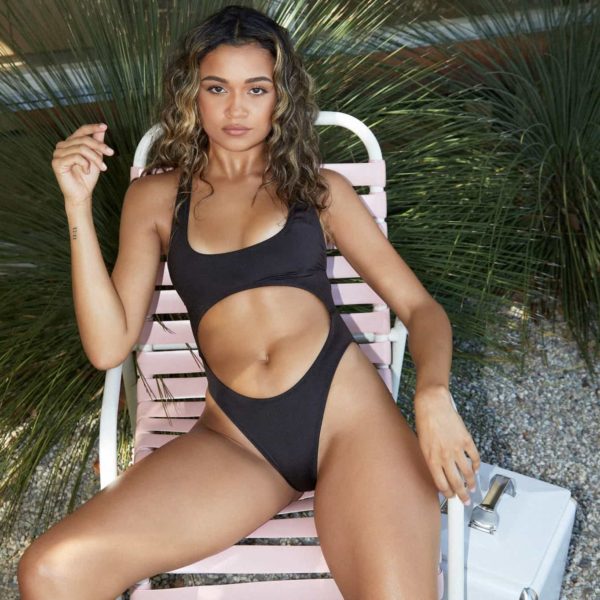 Unless you love the unexpected thrill of crotch-stitch ripping, it's always best to look for quality materials when shopping for shapewear. In a typical buyer's sense, this usually entails three main assets: flexibility, durability, and performance. Here, this Skims vs Spanx review will help differentiate these two brands regarding material.
Let's start off with Spanx. In most of their garments, they use a blend of nylon and spandex. These fabrics are universally known to be stretchy, form-fitting, and super-durable if cared for properly.
In some cases, Spanx utilizes matte yarn twill knit technology, compression levels, and non-slippage waistbands for extra support. When combined together, it's definitely a garment that can last through several years of use.
Skims also uses the same blend of spandex and nylon, but just at a different percentage. Its differences lie in features, which usually entail sheer butt pockets, adjustable straps, and silicone placements to prevent rolling hems.
According to the brand, their materials offer 'zero cutting' and 'second-skin softness.' Skims' fabric construction is nothing too revolutionary, but it provides a classic blend that's universally trusted by most customers.
Both brands shine differently when it comes to materials—but I think it's safe to assume that they both pass the quality control test. If you're looking to balance price versus value, it's best that you stay put for this Skims vs Spanx review.
Skims vs Spanx: Price & Value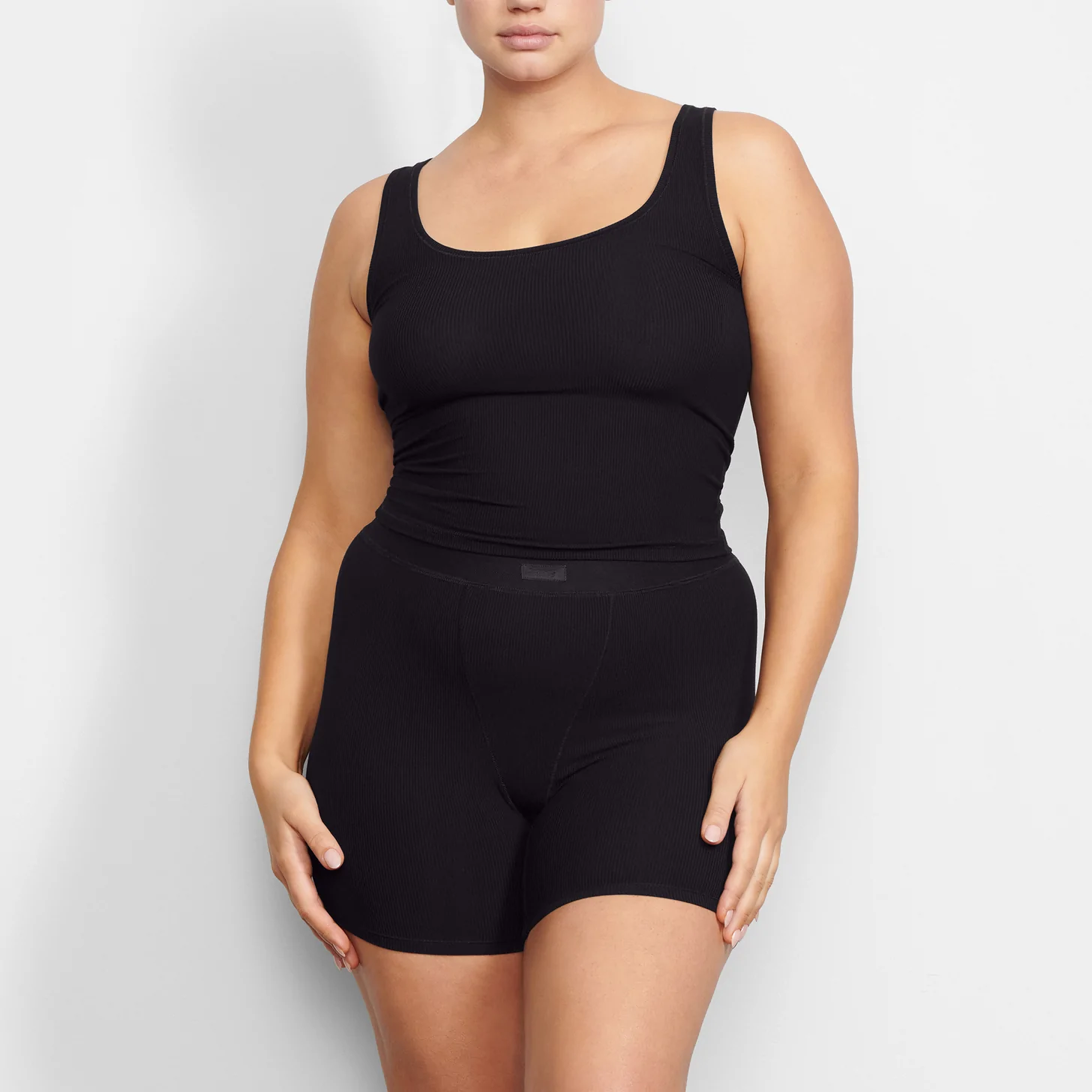 So, how much are we talking here? If you're a budget-conscious customer, chances are that you've skipped to this part of this Skims vs Spanx review. I'll cut to the chase with a side-by-side view for both of these brands regarding price.
The Skims Sculpting Bodysuit with Snaps: $62 (offers Afterpay)
The Skims Everybody T-Shirt Bra: $48 (offers Afterpay)
The Skims Maternity Sculpting Short Mid Thigh: $34 (offers Afterpay)
The Spanx OnCore Open Mid-Bust Mid-Thigh Bodysuit: $78 (originally costs $98)
The Spanx Bra-llelujah Lightly Lined Full Coverage Bra: $54 (originally costs $68)
The Spanx Mama Short: $26 (originally costs $32)
In relation to quality, Skims and Spanx seem to be worth the price. These two brands aren't exceedingly expensive, as you can find a decent shapewear piece for under $100. It's also good to know that buyers can save a bit of money on both retailers, as Skims offers Afterpay while most of Spanx's garments are sold at a discounted price.
Customers on both sides agree that their intimates collection is comfortable and well-made. But, if you're looking for an in-depth account of feedback, I'd suggest you stay put for my Skims vs Spanx review.
Skims vs Spanx: What Do Customers Think?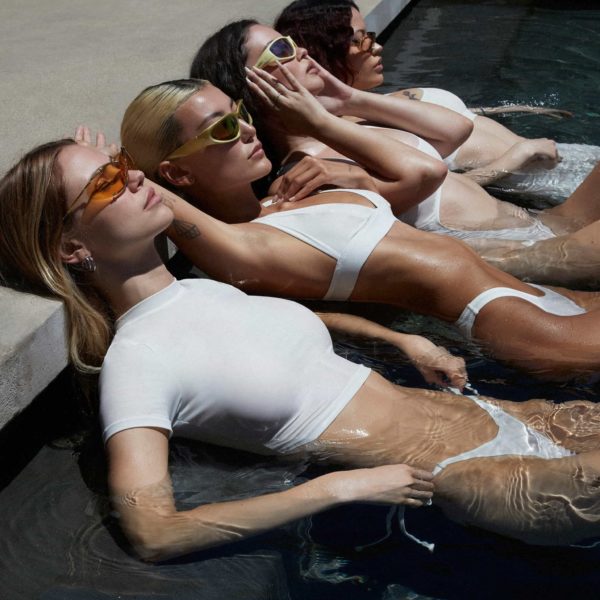 Skims and Spanx have definitely captured the public's attention for their unique collection of undergarments. Of course, with celebrity backing from Kim K coupled with a 20-year establishment in the industry, it's only natural that there would be hundreds of comments to reside online.
I'll keep things brief, as this Skims vs Spanx review will provide a summarized list of ratings and common feedback related to each company.
The Skims Sculpting Bodysuit with Snaps: 1,179 reviews with 4.6/5 stars
The Skims Everybody T-Shirt Bra: 427 reviews with 4.8/5 stars
The Skims Maternity Sculpting Short Mid Thigh: 21 reviews with 4.1/5 stars
Skims through external sources:
Trustpilot: 376 reviews with 3.2/5 stars
The Better Business Bureau: 208 complaints
Amazon ratings for Spanx
The Spanx OnCore Open Mid-Bust Mid-Thigh Bodysuit: 452 reviews with 4.4/5 stars
The Spanx Bra-llelujah Lightly Lined Full Coverage Bra: 863 reviews with 4.2/5 stars
The Spanx Power Mama Mid-Thigh Maternity Maternity Shaper 163: 128 reviews with 4.3/5 stars
Spanx through external sources:
Sitejabber: 42 reviews with 1.6/5 stars
The Better Business Bureau: 18 complaints
If numbers aren't enough to form a solid decision, how about some genuine customer reviews? I've summed up some common feedback attributed to both Skims and Spanx. Let's take a look down below:
Skims:
Felt comfortable to wear and looks well-made
Most garments fit true to size
A few positive experiences with customer service and delivery
Some commend its inclusive size range
Spanx:
Comfortable and  well-made in quality
Helped to flatter the figure
Small features like non-compression and adjustable straps won the upvote of some customers
Arguably, this section should come as the main deciding factor on what brand to opt for. But if you're just at the tipping point, my Skims vs Spanx review will detail some promotions and shipping policies to help settle your final decision.
Skims vs Spanx: Promotions & Discounts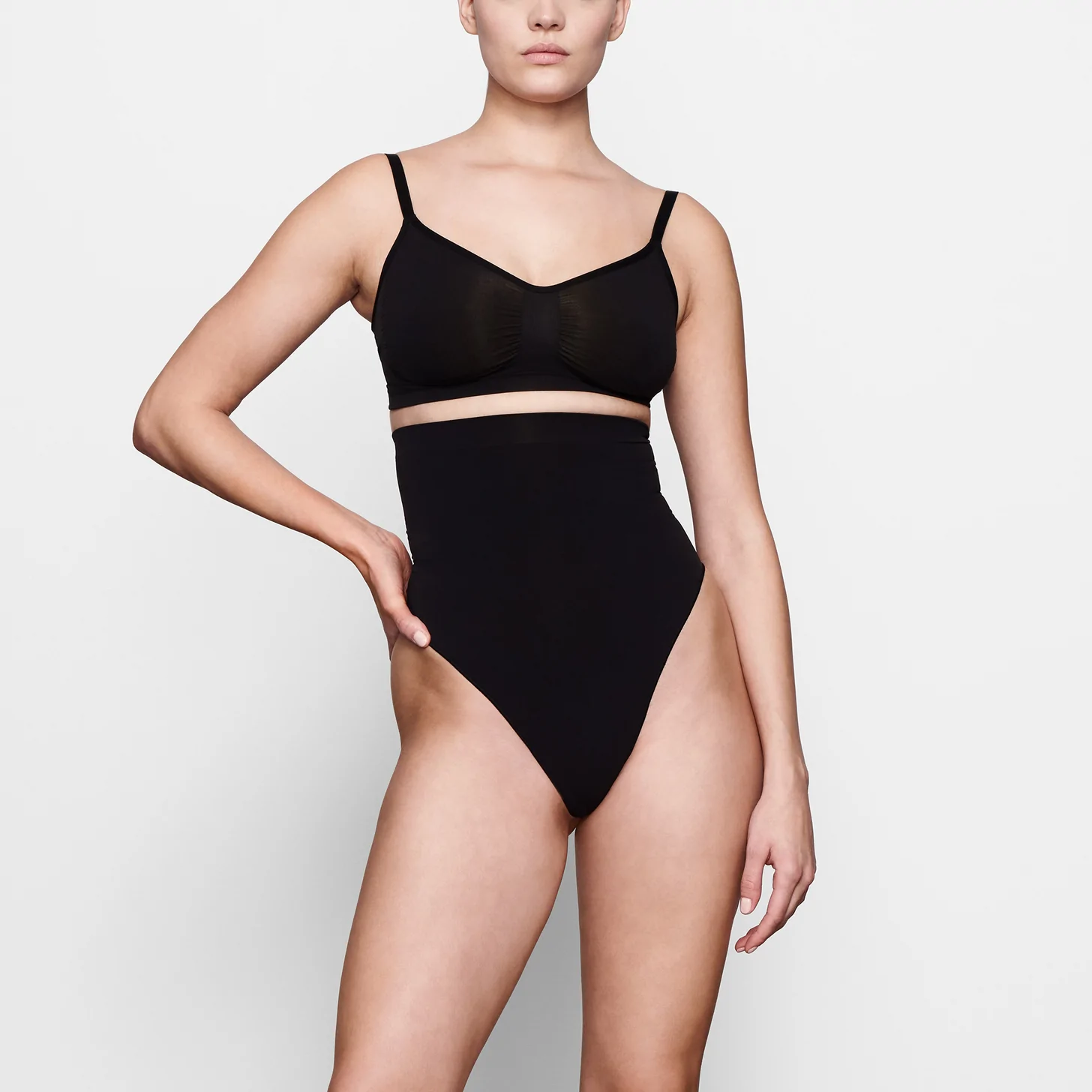 Looking for a deal? Of direction you're; all people's seeking out a manner to save money. Fortunately, I exposed masses of promotions on Spanx's internet site.
Sadly, the equal cannot be stated for Skims, as they rarely provide discounts or coupons for his or her products. If you are looking to buy one of their shapewear pieces for less, I'd advise purchasing at one of the logo's partnered retailers.
Spanx:
Currently web hosting a Black Friday Sale wherein all items are 20% off
Offers a sale outlet on its website
Customers can receive $20 via sharing the brand's associate link with their friends circle of relatives
I gained't crown any winners right here, but I suppose this phase speaks for itself. If it's any comfort, Skims does offer Afterpay as every other opportunity if you may't find the money for a one-time charge. I additionally recommend preserving tabs on each of the brand's social media for any destiny promotions.
Skims vs Spanx: Shipping & Returns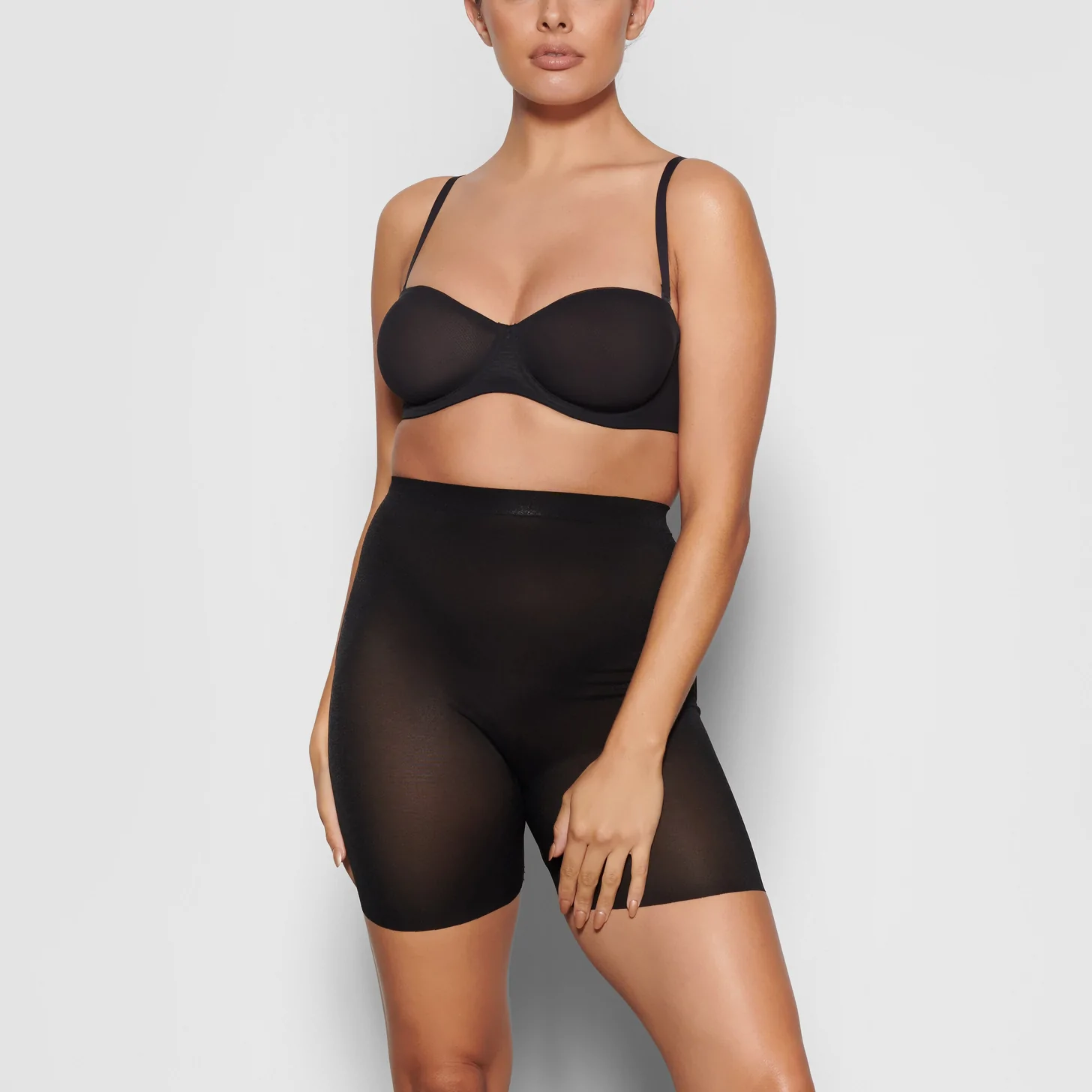 It's time for the remaining aspect-by means of-side evaluation. More often than now not, the actual deal-breaker lies within the transport and go back policy. If the transport expenses and poor client feedback run in the negatives, possibilities are that you'll switch over to something new. As a heads up, this Skims vs Spanx review will summarize each of the logo's guidelines down underneath.
Skims:
Free shipping on U.S orders $seventy five or more
Also offers other shipping options in the form of Express and Priority
Does provide international transport to pick out countries
Issues a tracking range alongside a confirmation email
Has a 30-day return policy with a $6 transport price
Reported problems with missing or not on time deliveries
Spanx:
Free fashionable transport on all orders
Does offer different transport alternatives inclusive of fundamental and expedited
Doesn't provide international shipping
Issues a tracking quantity and a confirmation email
Has a 90-day return coverage with free U.S-based delivery
Reported troubles with behind schedule orders
Obviously, Skims acts as a greater accessible choice for folks that don't are living in the United States. While Spanx doesn't offer global delivery, you may still locate them at partnered outlets together with Amazon and Nordstrom. In our opinion, evidently free shipping may also act as the very last finding out aspect in deciding on what brand to opt for.
Who Will You Shop With?
In their very own respective ways, Skims and Spanx are popular for special reasons. It surely boils down to recognition and company challenge.
For one, Spanx acts as the 'safe-bet', because it's a universally identified organisation inside the enterprise. They're a relied on logo that's been production undergarments for nearly twenty years. On pinnacle of that, their prices are semi-low-priced, which leans in choose with a few price range-conscious customers.
If you're searching out some thing new, Skims can function that refreshing substitute. Compared to Spanx, they provide a greater inclusive company challenge. It's widely apparent of their given size variety, in addition to the product pix they difficulty. In addition, Skims is the logo to choose in case you're big on following the latest celebrity tendencies. I imply, it's backed through Kim K of everyone.
My Skims and Spanx evaluation has furnished you with all of the information to recall whilst deciding on a emblem. At the stop of the day, you could at the least loosen up knowing that each corporations are properly mentioned by using the general public